GENERAL TRAVEL INFORMATION
Best Price Guaranteed
With Carinthia Radreisen you are guaranteed to book cheap! If you find an equivalent offer for your bike tour at another travel agency, you will receive the same price from us. Please email us the comparison offer 2 weeks before your arrival. This best price guarantee applies to all bike tours organized by Kärnten Radreisen on the Drauradweg, the Alpe-Adria-Radweg and along the Carinthian lakes.
Booking process
The travel booking is made in writing or by telephone by a named person for all travel participants. Once you have registered for your trip, you will receive a booking confirmation by email or post.
Arrival and Departure
Arrival and departure, whether by car, train or plane, has to be organized individually and is not included in the tour price. Kärnten Radreisen is happy to help with the organization. Many of the starting points of our bike tours, such as Salzburg, Spittal / Drau or Villach, can be easily reached by train
Rental bikes
Carinthia Radreisen offers a comfortable Rental bike service. Select your favorite bike when booking and it will be waiting for you in your hotel on the day of your arrival. You can choose from classic 21-speed touring bikes, city bikes or e-bikes with an Impulse mid-engine and a 603wh battery. Other models, rental bikes for children, etc. are available on request. The rental bikes must be booked prior to departure so that they can be transported to your hotel on time. Please check your rental bikes when you pick them up and report any complaints immediately to our service hotline.
Travel documents
You will receive extensive travel documents in your arrival hotel. These documents contain the list of the hotels booked, vouchers for the hotels and for other booked services, a description of the bike route, well-prepared maps and information material as well as luggage tags. The luggage tags from Kärnten Radreisen are used for daily luggage transport. We ask you to fill this out legibly and attach it to every piece of luggage.
Parking

In smaller towns, it is often possible to park your vehicle for the entire duration of your cycle tour directly at the first hotel you arrive at. In many cases this is even permitted free of charge, in some cases a parking fee has to be paid. In cities like Salzburg or Villach, the arrival hotel will inform you about parking options, such as multi-storey car parks near your accommodation. Parking costs are not included in the travel price and must be paid directly. Parking spaces cannot be reserved.
Luggage transfer
Carinthia Radreisen organizes a comfortable daily Luggage transfer from hotel to hotel. Your luggage (1 piece per person up to 20 kilograms) will be picked up at the reception of your hotel and reliably brought to your next stopover hotel. Please provide your luggage with the luggage tags provided by Kärnten Radreisen.
return transfer
The return transfer by bus or train to the starting point of your bike tour is not included in most bike tour packages and can therefore be booked on the desired date. The transfer includes your own bike, unless stated otherwise in the bike tour description. You will receive the voucher for pre-booked transfers with your travel documents. The return transfer with the Drau cycle path bus can also be booked individually without a bike tour package.
Additional Services
Additional services, such as extra nights at the end of the bike tour, return transfers or train tickets can also be booked during the bike tour. Please contact Kärnten Radreisen on the service hotline in good time.
Service hotline
Our bike service hotline is open daily (including weekends) from 8:00 a.m. to 19:00 p.m. The team from Carinthia Radreisen is at your disposal for questions, information and complaints: + 43 (0) 664/530 18 84.
Guided tours
Bike tours led by a guide are possible on request. For travel groups, price reductions and group conditions are possible by arrangement.
Child discount
We are happy to offer special prices for young cyclists. The following price reductions for children apply to two full-paying adults sharing the room with their parents: up to 4 years free, 5-9 years 50%, 10-15 years 25%.
Tailor-made bike tours
Would you like a shorter bike tour with longer daily stages? Would you like to take a break in between and spend another night in one place? Do you prefer hotels with wellness facilities? On request, Kärnten Radreisen also creates tailor-made bike tours according to your individual wishes.
Last minute bookings
For short-term bookings from 14 days before the desired arrival date, a booking fee of € 35 will be charged.
Rebooking
A processing fee of € 50 per booking will be charged for a rebooking to other travel dates or other bike tours notified in writing. Every registered travel participant can also be replaced by another person if he notifies us of this up to 8 days before the start of the journey. If a substitute takes the place of the registered participant, this does not affect the original contract.
Cancellation policy
If a customer withdraws from his booked bike tour after receipt of the booking confirmation, Carinthia Radreisen is entitled to charge cancellation fees as follows in accordance with the general travel conditions due to the preparation work that has taken place.
The cancellation fees are proportionate to the total price of the trip:
up to the 28th day before departure: 10%
from the 27th to the 8th day before departure: 50%
from the 7th day to the 3st day before departure: 80%
from the 2nd day or in case of non-commencement of the trip, trip interruption: 100%
Cancellation protection:
It is not uncommon for things to turn out differently than you think and the booked holiday has to be canceled or prematurely terminated. We would like to save you the associated cancellation costs and the hassle. We therefore recommend taking out cancellation insurance from Europäische Reiseversicherung (including free Covid coverage).
Here you can take out insurance easily, quickly and online: https://start.europaeische.at/hos?AGN=512030
Travel insurance
In order to avoid cancellation fees and to be well insured in the event of illness or an accident, we recommend taking out travel insurance. The Austrian automobile club ÖAMTC also offers the following tailor-made insurance:
Bicycle accident and liability insurance as well as a
Bicycle theft insurance
Complaints
Any complaints that arise must be reported immediately so that the facts can be checked or remedial action can be taken on site. Complaints and objections that are not immediately reported on site can therefore unfortunately no longer be recognized later.
Others
Participation in a bike tour is at your own risk. Minors are only allowed to take part in a cycle tour if they are accompanied by a legal guardian. Each travel participant is responsible for ensuring that their health is up to the demands of the trip. Compliance with the road traffic regulations is also the responsibility of the traveler. Should a change in the route be necessary during the bike tour (e.g. due to the weather, for safety reasons, etc.), there is no entitlement to a travel price reduction. Furthermore, there is no entitlement to reimbursement if the tour participant breaks off the bike tour.
Customer Money Protection
The tour operator Strafinger Tourismusmanagement & Reisebüro GmbH has taken out customer money protection in accordance with the EU regulation. This applies in the same way to the products of Kärnten Radreisen and Österreich Radreisen. Claims must be submitted to the insurer TVA Tourismusagentur GmbH Ferstelgasse 109, 654 Vienna under GISA No. 05 6 1090. www.tourismusversicherung.at
General travel conditions
You can find detailed information on the general travel conditions here .

Abbreviations
To make it easier to read, we use a few abbreviations and symbols in our descriptions with the following meanings: VS / NS = pre-season, post-season
HS = high season
DZ = double room
EZ = single room
Half board = half board
Cat. = Category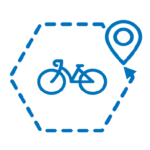 Stage tour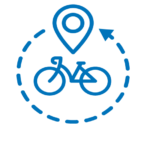 Round trip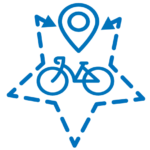 Star tour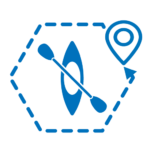 canoeing