DRAU CYCLE PATH
The five-star cycle path on the southern side of the Alps

about 330 km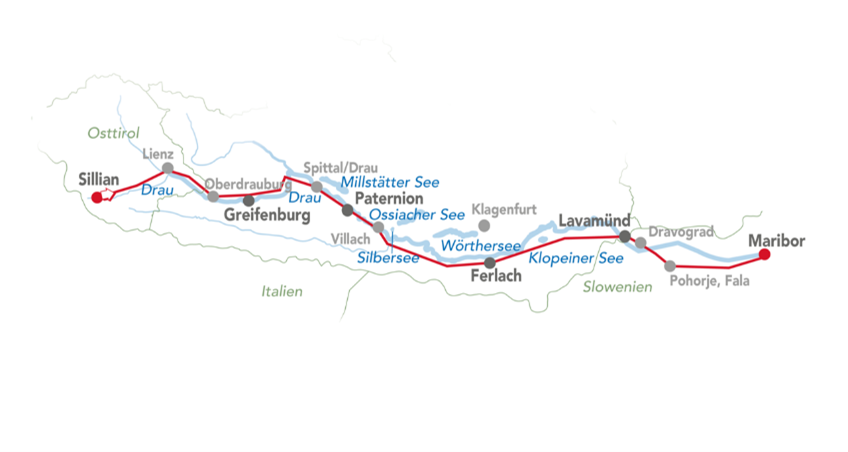 The cycle path along the Drau, the largest river in the Southern Alps, is a special insider tip for active vacationers. Imposing mountain backdrops alternate with charming towns and sights as well as natural valleys with the warmest bathing lakes in Europe. The Drau cycle path is 510 kilometers long and leads from South Tyrol and East Tyrol via Carinthia and Slovenia to Croatia.
With the coveted 5-star award from the German ADFC (General German Bicycle Club), it is one of the most attractive and beautiful cycle routes in Austria. Leisure cyclists as well as ambitious athletes get their money's worth on the well-developed, paved and uniformly marked trails.
From striking peaks to charming towns
The starting point is in Toblach in the Italian South Tyrol against the backdrop of the world-famous Three Peaks. The river continues to East Tyrol, past the Lienz Dolomites, to the sunny city of Lienz, to Carinthia, to the cultural city of Spittal an der Drau and into Villach, with its Italian touch. Carinthia's crystal-clear swimming lakes are not far from the Drau cycle path and invite you to take a relaxing detour. The route continues through the charming Rosental, just past Lake Klopein, the warmest swimming lake in Europe, to the large Völkermarkt reservoir. From the Slovenian border the landscape is very natural and the bike path runs through quiet villages and finally over the pretty wine town of Maribor with a view of the vastness of Pannonia to Varaždin in Croatia.
A river to enjoy
The stages of the Drau Cycle Path in Austria (approx. 300 km) are particularly suitable for leisure cyclists and families with children due to the gentle gradient. With many years of experience, Carinthia Radreisen has designed a variety of enjoyable and sporty tours along the Drau. These Cycle Tours vary with daily stages between 30 and 70 kilometers and can be tailored for families as well as for persistent cyclists. Another highlight are the popular ones Bike-canoe combination tours , where one or more daily stages can optionally be covered on the Drau in a canoe for a change.
Culinary, you will be spoiled along the entire route by the many Drauradweg hosts with regional specialties of the Alpe-Adria cuisine that will reliably get tired legs going again.
Relaxing overnight stays in charming hotels and pensions and the excellent service of Carinthia Radreisen with daily luggage transport make the Drau cycle path tour an all-round pleasure.
Highlights on the Drauradweg
In the immediate vicinity of the Drau cycle path you will find wonderful natural treasures and interesting sights:
Toblacher Feld: The source of the Drau in South Tyrol
Sillian in East Tyrol (1.103m above sea level, Wichtelpark, Heinfels Castle)
Lienz: largest city in East Tyrol, castle, town market
Aguntum: former Roman city in East Tyrol
Greifenstein: climbing park with swimming lake
Spittal an der Drau: Porcia Renaissance castle
Villach: lively old town, Carinthian thermal baths
Rosegg: Castle & Zoo
Ferlach: Gunsmith Museum, Bee Museum, Tscheppaschlucht
Rosental: nature reserve
Klopeiner See: warmest swimming lake in Europe
Völkermarkt reservoir: canoe tours, birdwatching
Ptuj: Castle, oldest municipality in Slovenia
Fala: Hydroelectric Museum
Maribor: old town with old wine cellars

THESE CYCLING TOURS COULD
YOU ARE INTERESTED IN