LAKE CONSTANCE CYCLE PATH
Along the lakeshore through three countries

about 330 km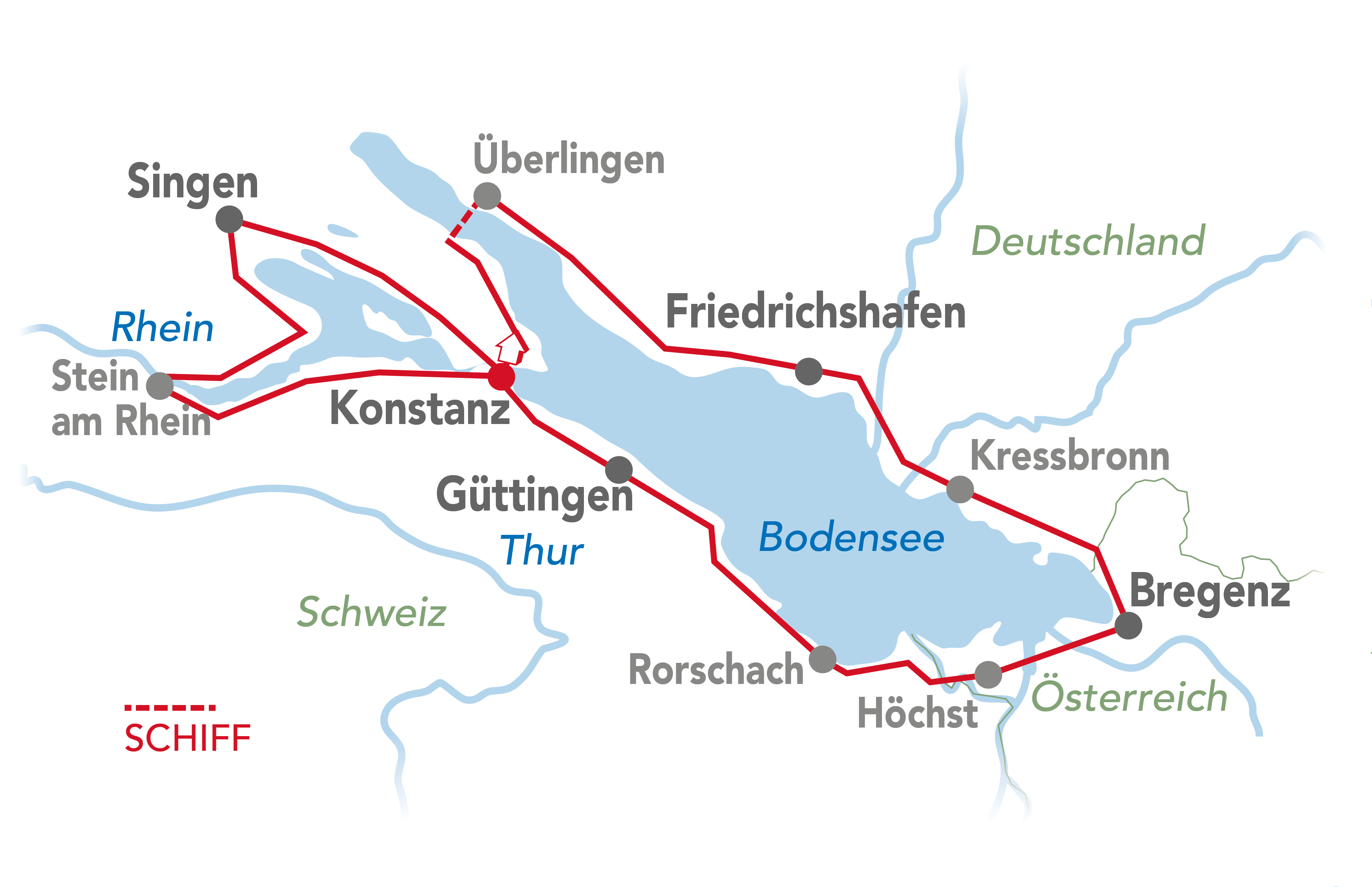 Circumnavigate the lake on the Lake Constance cycle path
The Lake Constance Cycle Path, with its three neighboring countries of Germany, Switzerland and Austria, makes cyclists' hearts beat faster. The third-largest lake in Central Europe, which glitters like a sea, can easily be circled by bike along the lake shore. Not surprisingly, the cross-border Lake Constance cycle path, classified with 4 stars by the ADFC, is one of the most popular cycle paths in Europe. The scenic and cultural diversity of the three-country region, the numerous sights and natural attractions can be discovered perfectly from the saddle. And as a bonus, there are fantastic sunsets and the panorama of the Alps to enjoy.
The Lake Constance cycle path is peppered with sights
The approximately 270 km long Lake Constance cycle path can be ridden in both directions. The majority of cyclists circumnavigate Lake Constance clockwise. This allows you to enjoy Lake Constance without restrictions, since the bike route runs on the lake side of the road. The classic big Lake Constance bike tour covers the entire lake and does not miss any of the highlights and sights. The historic cities of Konstanz, Stein am Rhein and medieval Meersburg, the flower island of Mainau, Lindau and the festival city of Bregenz are all worth a visit. Almost every town on Lake Constance also has its own lido and the pleasant water temperatures invite you to swim in summer.
Lake Constance cycle path: 270 kilometers of cycling pleasure
The Lake Constance cycle path is well signposted throughout and runs mostly flat near the lake shore, mostly on its own asphalt cycle paths. There are only a few short, unpaved sections, in the area of ​​the German city of Friedrichshafen the Lake Constance cycle path leads along the road. However, these pieces are the exception of the beautiful and otherwise natural and water-based Lake Constance cycle path.
The most beautiful Lake Constance cycle tours from Austria Radreisen
You can also take a break from cycling at any time and cover sections of the route comfortably with the Lake Constance ships and ferries. In this way you will also get to know the lake, also known as the Swabian Sea, from the water. In addition, there are regular trains on almost the entire shore of Lake Constance that allow bicycles to be taken along. The Lake Constance cycle path is therefore ideal for families and pleasure cyclists. During the long round trip around Lake Constance from Österreich Radreisen you will discover all the important highlights with comfortable daily stages of approx. 50 km and enjoy daily luggage transport. At the glorious Lake Constance cycle tour from Bregenz you will also visit the famous Rhine Falls in Switzerland.
Highlights on the Lake Constance cycle path:
Constance: old town with minster, harbor
Kreuzlingen: Seeburgpark, harbor
Mainau flower island: unique flower park
Meersburg: medieval old town, Meersburg Castle with
30 furnished rooms
Friedrichshafen: Zeppelin Museum with the world's largest collection for
Luftschifffahrt, Dornier Air and Space Museum
Lindau Island
Bregenz: Lake stage of the Bregenz Festival,
Cable car to the Pfänder panoramic mountain
Arbon: picturesque old town with a 7-storey castle tower
Stein am Rhein: medieval old town with half-timbered buildings
Rhine Falls near Neuhausen: origin of the Rhine, waterfall illuminated in the evening
Reichenau monastery island: UNESCO World Heritage
beach resorts
Lake Constance shipping
Magnificent sunsets
THESE CYCLING TOURS COULD
YOU ARE INTERESTED IN