EXPLORE THE LAKES OF CARINTHIA BY BIKE
You couldn't ask for a more suitable cycling region: a sunny, mild climate with little rainfall, well-developed and marked bike paths, a charming landscape with interesting sights, culinary delights, good infrastructure for bikers - and yes, as the icing on the cake, a few crystal-clear swimming lakes, which you can jump into to cool off during or after the bike tour.
Austria's southernmost state is blessed with over 200 crystal clear and up to 28 degrees warm bathing lakes with drinking water quality. Carinthia's lakes are embedded in the wonderful mountain landscape of the Southern Alps and offer numerous opportunities to move in, around and around the water. Almost all of the lakes can be comfortably circumnavigated by bike on a riverside cycle path. The swimwear should never be missing in the daypack. Along the bike paths, numerous bathing beaches and also small, open access to the lake invite you to enjoy a bathing break or a short cooling off in between.
Kärnten Radreisen organizes attractive lake tours for connoisseurs, but also for ambitious bikers. So you can at Leisure bike tours Linger longer at a lake and relax or with sophisticated ones Round trips along the Carinthian loop explore a new lake every day.
The highlights of the most beautiful Carinthian lakes for cycling and swimming: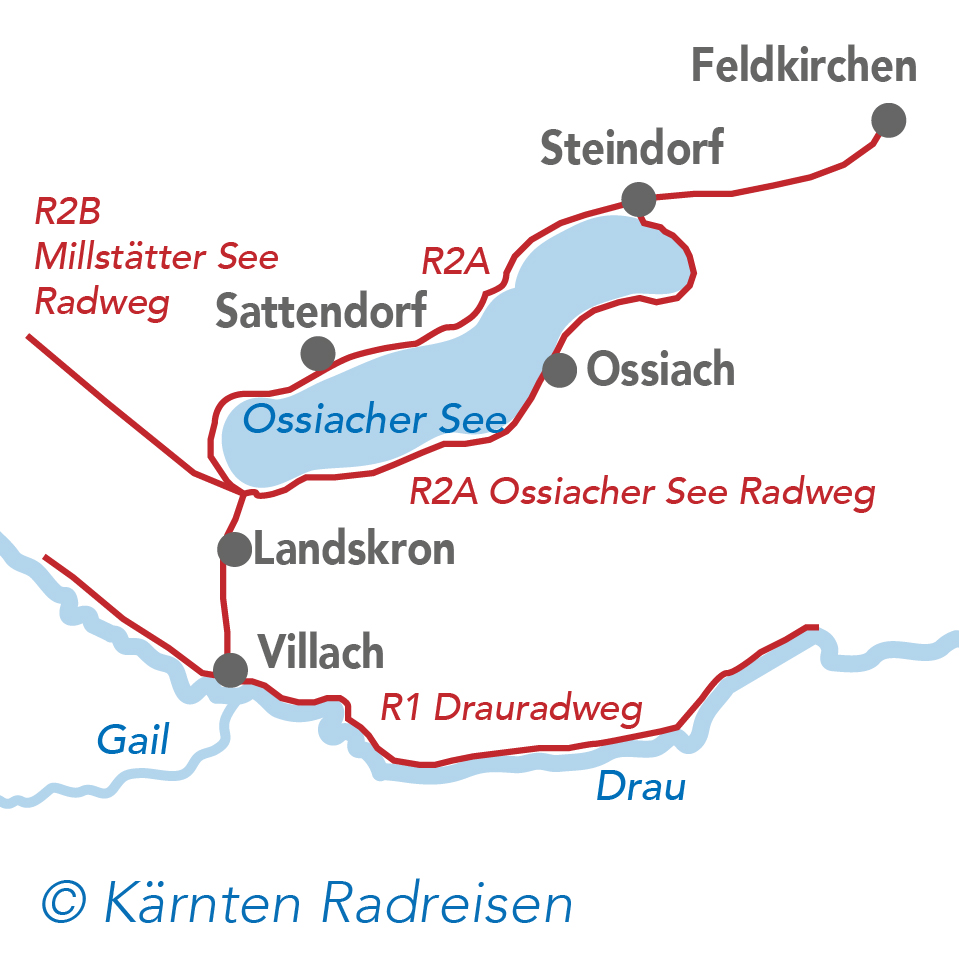 THE OSSIACH LAKE
The deep green Ossiacher See is particularly popular with families and can be wonderfully circumnavigated by bike. Numerous attractions and sights lure along the 29 km long cycle path:
Ossiacher See shipping
Ossiach Abbey, the venue for the Carinthian Summer
Ossiach climbing park
Stone house in Steindorf
Nature reserve Pencil Letters Moor
Cable car ride Gerlitzen (1909 m high panoramic mountain)
Finsterbach waterfalls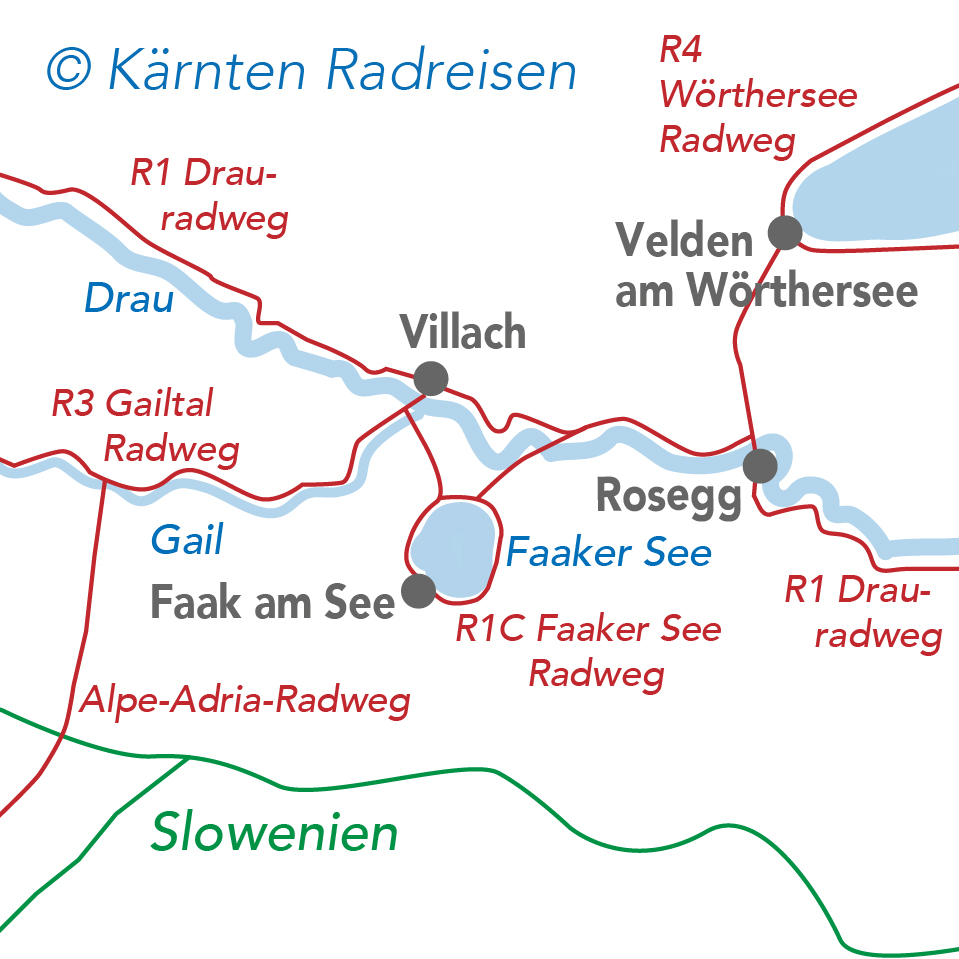 THE FAAKER LAKE
The idyllic Faaker See enchants with its unique turquoise color. During the circumnavigation it is almost impossible to do without a jump into this magical-looking lake, the ferry to the island is possible.
Island accessible by ferry
Visit to a lido or a free lake access
Lake exploration by rowing boat, kayak or SUP
Citrus garden, show garden with 280 varieties
Finkenstein Castle Arena
THE WÖRTHERSEE
The most famous Austrian lake captivates with the finest blue-green water for swimming and boating. The glamorous holiday resorts of Velden and Pörtschach invite you to linger with long, Mediterranean-looking beach promenades and numerous restaurants, cafes, bars and shops. The charming provincial capital Klagenfurt and its famous Lindwurm is only a few kilometers by bike from the lake.
Beach promenades in Velden and Pörtschach
Velden with Velden Castle and Casino
Maria Wörth peninsula with pilgrimage church
Klagenfurt with the Minimundus adventure park, old town, Lindwurm
Wörthersee shipping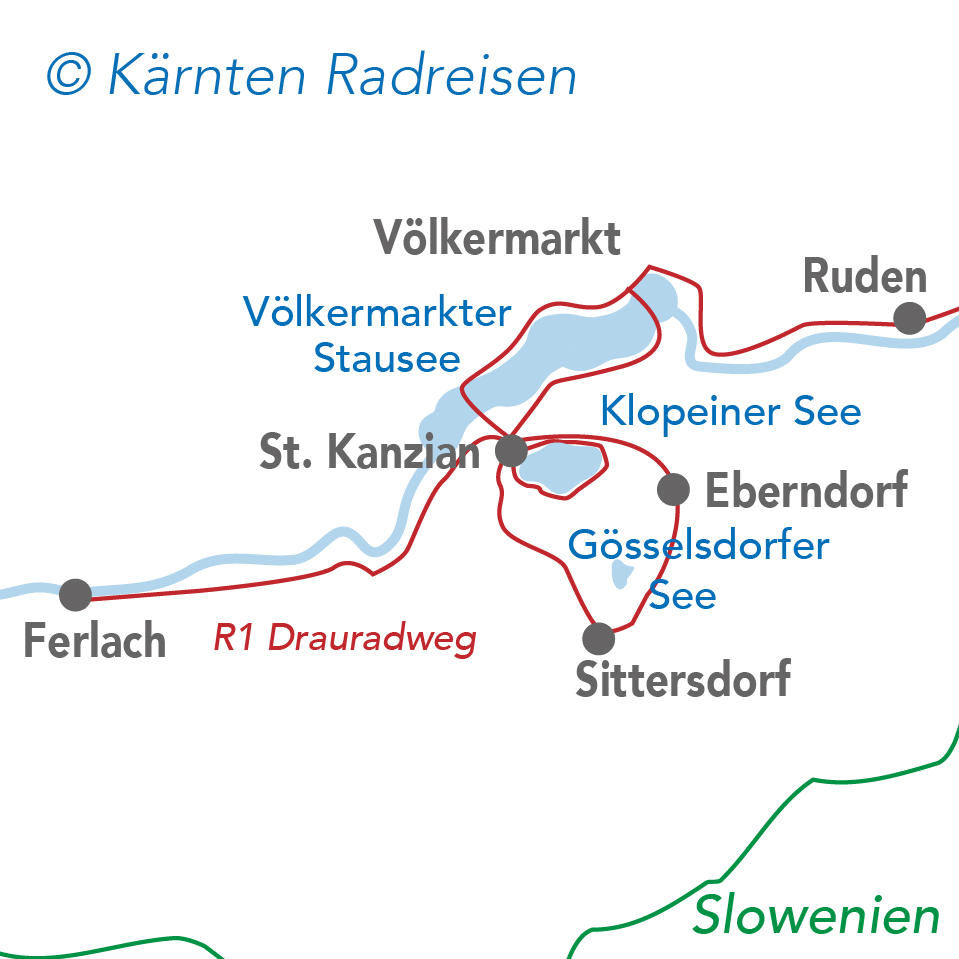 THE KLOPEINER LAKE
The warmest bathing lake in Europe is located in southern Carinthia on the border with Slovenia and is an Eldorado for families with children. Located not far from the Drau cycle path, the Lake Klopein with its many hours of sunshine, it is ideal for relaxing extra days. The Aktiv Card Südkärnten offers numerous attractions for free, including guided bike and mountain bike tours.
Griffen stalactite cave
Forest adventure world Klopeiner See
Bike Park Flow Country Sneak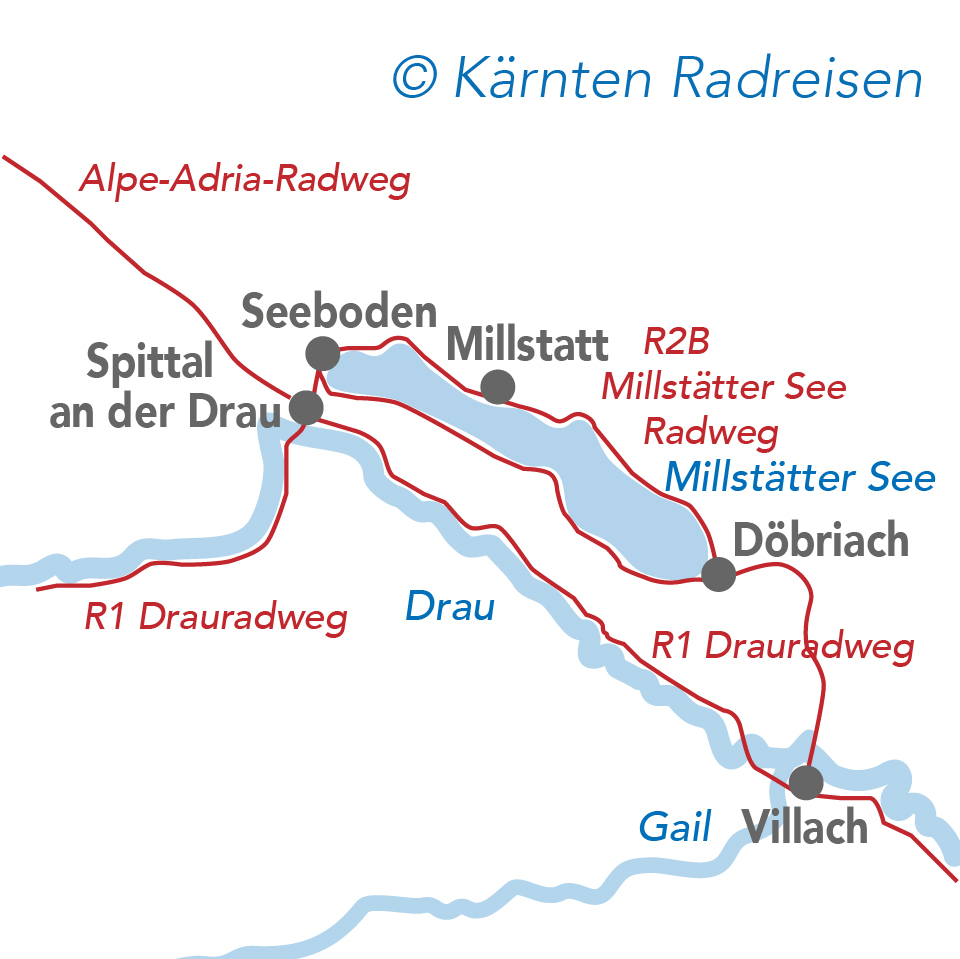 THE MILLSTÄTTER LAKE
Embedded in the gentle mountains, Upper Carinthia's largest lake offers many hiking opportunities and attractive viewpoints. While the well-known holiday resorts and the 1st Carinthian bathing house invite you to lake wellness on the north shore of Lake Millstatt, the south shore impresses with its naturalness.
Imperial town of Millstatt
Lake wellness in the 1st Carinthian bathhouse
Bicycle ferry
Millstätter See - shipping
Hike to the Granator with a panoramic view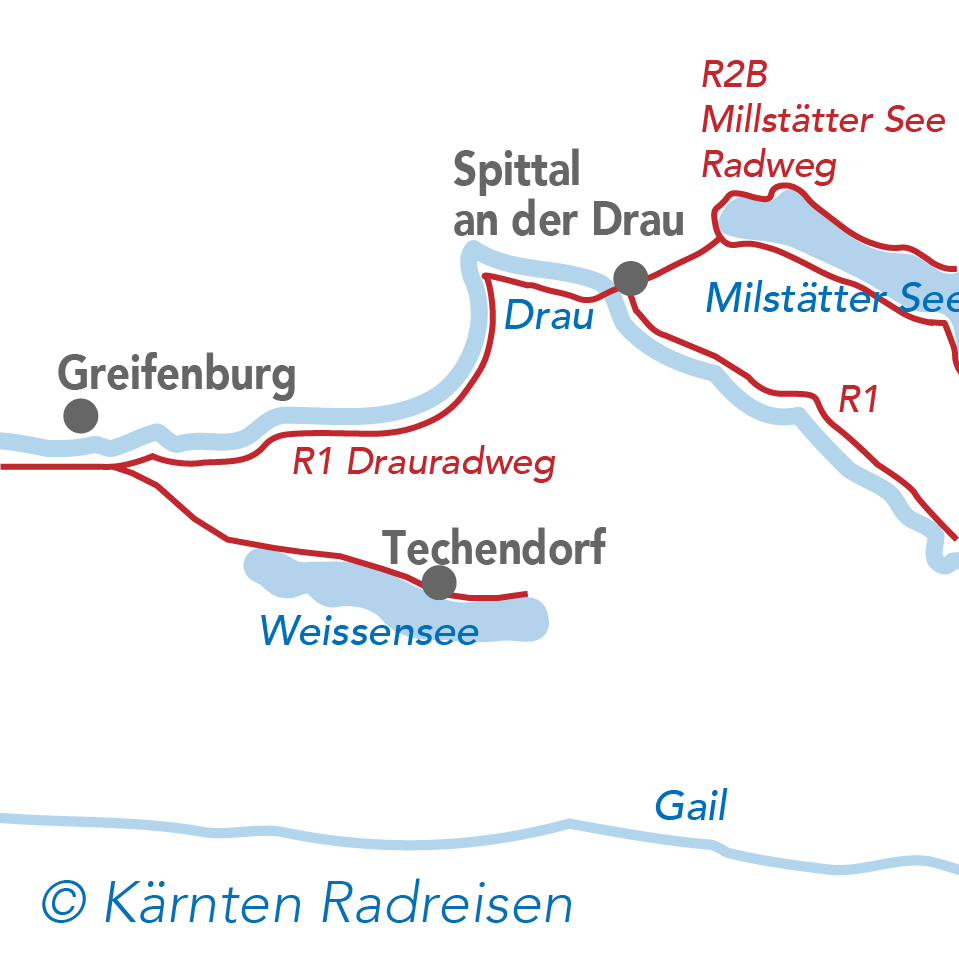 THE WEISSENSEE
The protected fjord-like lake lies at an altitude of 930m and is one of the highest bathing lakes in Austria. The emerald lake offers very special nature experiences, from wonderful hikes to kayak taster courses
Weißensee Nature Park
Kayak trial course
Greifenburg climbing park
THESE MIGHT TRAVEL
YOU ARE INTERESTED IN