INN CYCLE PATH
From high peaks to rolling hills

about 330 km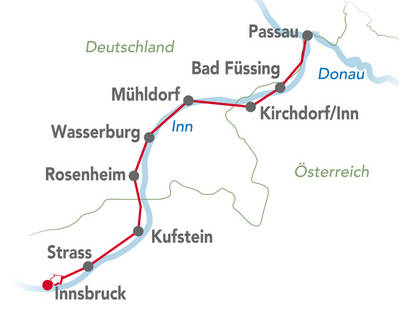 Across the Alps and three-thousanders in view, but the way! The cross-border Inn Cycle Path follows the course of the Inn for 530 km and leads across the Alps from Switzerland via Austria to Germany. Varied cycle tour from the peaks of the Alps to the hill country of Bavaria and to the floodplain landscapes in Upper Austria. From Tyrol, the route runs mostly flat and along the bank to where it flows into the Danube near Passau.
On the Inn Cycle Path through Tyrol
The Inn is the most water-rich tributary of the Danube and has its source at the Majola Pass in the Swiss Engadine at 1.800 m. This is also where the cycle route of the Inn Cycle Path begins. Pounds in Austria is reached via sophisticated St. Moritz, Zernez, Guarda and Scuol. From there, the Inn Cycle Path continues to Landeck am Arlberg and Imst to the Tyrolean capital of Innsbruck. Visit the city's landmark, the Golden Roof, and stroll through the old town with a view of the mighty Nordkette.
The bike route continues along the Inn Valley to Kufstein, where the valley widens and you cross the German-Austrian border. In Germany, the Inn Cycle Path leads through Rosenheim in the Chiemsee region and via Wasserburg and Mühldorf back to Austria in the Upper Austrian Innviertel.
Via the Tauernradweg to Passau
After the mouth of the Salzach in the Inn, the cycle route corresponds to the route of the Tauern cycle path. The destination of the Inn Cycle Path is the three-river city of Passau in Bavaria. The individual stages of the Inn Cycle Path mainly run near the river on paved paths. Some of these are gravel and unpaved forest paths, but there are also small side roads and main roads with little traffic. Most of the Inn Valley Cycle Path is easy to ride, but the route runs slightly downhill from Tyrol.
Numerous towns and villages worth seeing, such as St. Moritz, Innsbruck, Burghausen and Passau are located along the cycle route of the Inn Cycle Path. It is definitely worth taking a breather to take advantage of the gastronomic offer along the cycle path and to discover the various sights. The week-long bike tourOn the Inn Cycle Path from Innsbruck to Passau" from Austria Radreisen offers the best service and daily luggage transport.
Highlights on the Inn Cycle Path
Moritz, world-famous winter sports resort
Innsbruck, old town, Goldenes Dachl, Hungerburgbahn,
Silver City Schwaz, Hall in Tirol
Wattens – Swarovski Crystal Worlds
Fortified town of Kufstein
Moated castle, medieval town, unique river bend
Burghausen, the longest castle complex in Europe
European reserve "Unterer Inn", 55 km long nature reserve with islands and impressive floodplain vegetation with over 300 bird species
Schärding, picturesque baroque old town
Passau, city of three rivers, old town, shipping
THESE CYCLING TOURS COULD
YOU ARE INTERESTED IN