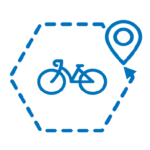 NEW: Weekend bike tour Mallnitz - Faaker See
On the Alpe-Adria cycle path from the Hohe Tauern to the turquoise bathing lake


100-130 km
DESCRIPTION:
Finally get out into nature and recharge your batteries! The Alpe-Adria cycle path is also worth a shorter cycle trip. On this weekend bike tour you cycle from Mallnitz - the pearl of the Carinthian National Park Region Hohe Tauern - to the Carinthian Drau town of Villach, whose lively center exudes southern flair. At the end of the day, sports fans can take a bathing trip to the nearby turquoise-green Faaker See or take a lap around Ossiacher See. The journey to Mallnitz and the departure from Villach can be done very comfortably by train from Salzburg or Vienna and the bikes can be taken with you or simply borrowed.
SERVICES:
3 nights in 3 * -star hotels and inns
Breakfast buffet or rich breakfast
Luggage transfer from hotel to hotel (1 piece of luggage per person, max. 20 kg)
Bike maps and information material, GPS tracks
Service hotline
Optionally bookable: ÖBB Ticket-Villach to Mallnitz
GETTING THERE:
Individual arrival in Mallnitz, easily accessible by train
every Thursday and Friday, from 01.05. until October 31.10.2022, 2, for at least 4 people. Daily arrival from XNUMX people.
Event notice
During the major events Villacher Kirchtag (31.07.-07.08.2022) and European Bike Week (06.09.-11.09.2022), hotel rooms in Villach can only be booked for a surcharge.
PRICE:
Category:
3 * -star hotels
€ 319, - per person
01.05. to 30.06.2022
01.09. to 30.09.2022
€ 339, - per person
01.07. to 31.08.2022
EXTRAS:
Single room surcharge: € 80 per person
RENTAL BIKES
Touring bike: € 60, -
E-bike: € 100, -
return transfer from Villach to Mallnitz by train. (approx. € 19,00 / person including bike)
Local tax, if due, is not included in the tour price.
Getting there
Individual arrival in Mallnitz and check-in at the hotel. Free time to relax in the Hohe Tauern National Park.
Mallnitz - Spittal / Drau, approx. 50 km
At a brisk ride you cycle on the Alpe-Adria cycle path through the wonderful mountains of the southern Hohe Tauern continuously downhill to Obervellach. You continue downriver to your destination today, Spittal / Drau, where you can visit the beautiful renaissance castle of Porcia.
Spittal / Drau - Villach, approx. 50 km
You cycle comfortably on the wonderful Drau Cycle Path - mostly in the immediate vicinity of the river - to Villach, whose lively city center exudes southern flair. On the way, numerous hosts invite you to enjoy a rest.
Excursion to Lake Faak, approx. 20-30 km - departure
Depending on the time and desire, we suggest a bike excursion to the nearby turquoise-green Faaker See in the morning. The small lake impresses with its wonderful water quality and attracts swimming in the summer months. For sporty bike freaks, a trip around the Ossiacher See (approx. 40 km) is a recommended option. Then individual journey home or return transfer by train to Mallnitz.