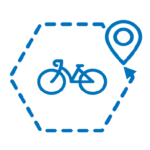 NEW: THREE COUNTRIES CYCLING TOUR
Triple cycling fun: from Villach via Tarvisio to Bled
DESCRIPTION:
SERVUS, CIAO, ZDRAVO. This cross-border three-country bike tour through Austria, Italy and Slovenia is unique. In just a few days you can experience 3 countries and 3 different cultures on wonderful bike paths in the midst of a beautiful mountain landscape. On your bike tour from Villach in Carinthia via the Italian winter sports resort of Tarvisio to the well-known Slovenian spa town of Bled, you will experience the largest European language families - Germans, Romans and Slavs. On top of that there are 3 different culinary experiences, 3 picturesque alpine lakes and 3 special cycle paths, the Gailtal cycle path, the Ciclovia Alpe-Adria cycle path and the Save cycle path, which runs on a former K&K railway line.
SERVICES:
4 nights in 4*-star hotels
Breakfast buffet or rich breakfast
Luggage transfer from hotel to hotel (1 piece of luggage per person, max. 20 kg)
Bike maps, information material and GPS tracks on request
Bikeline bike tour book "Adria-Bike"
Service hotline (7 days a week)
GETTING THERE:
Individual arrival in Villach (easily accessible by train),
From 01.05. - 30.09.2023/XNUMX/XNUMX,
Low season: Saturday and Sunday
High season: Saturday, Sunday, Tuesday
Minimum of 2 people
Daily arrival is possible from a minimum of 4 participants.
Major event information
Unfortunately, hotel rooms in Villach are only available at an additional cost during the major events in Villach Church Day (August 30.07st - August 06.08.2023th, 05.09) and European Bike Week (September 10.09.2023th - September XNUMXth, XNUMX).
PRICE:
Category:
4 * -star hotels and 3 * -star hotels
€ 599, - per person
01.05. to 30.06.2023
10.09. to 30.09.2023
€ 669, - per person
01.07. to 09.09.2023
EXTRAS:
Single supplement: € 190, -
RENTAL BIKES
Trekking bike: € 99
E-bike: € 169, -
Local tax, if due, is not included in the tour price.
return transfer
€ 110, - per person Excl. bike – only on Sundays, from 4 people by arrangement.
If you take your own bike with you, € 25 will be added.
A reservation of the places is necessary.
Arrival in Villach
Individual arrival in Villach and check-in at the hotel.
Stroll through the charming old town or take your first bike excursion to the nearby, turquoise-green Faaker See, e.g. to the lido in Drobollach (approx. 16 km there and back).
Villach - Tarvisio / Camporosso, approx. 37-40 km
Via the Ciclovia Alpe-Adria cycle path, which starts on the idyllic Gailtal cycle path on the river bank, you reach the border town of Arnoldstein after a moderate ascent. Bella Italia will soon welcome you and you can fortify yourself with Italian specialties in the winter sports resort of Tarvisio.
Tarvisio/Camporosso - Kranjska Gora, approx. 25 km
Today's bike route is relatively short so that you have enough time to enjoy the magnificent nature of the Julian Alps. For example, take a trip with the cable car to the well-known pilgrimage church on Monte Lussari. Don't miss the detour to the emerald green Laghi di Fusine (Weissenfelser lakes). On the magnificent Sava Cycle Path, you then follow the old railway line to Slovenia, to the well-known winter sports resort of Kranjska Gora.
Kranjska Gora - Bled, about 50 km
You cycle over numerous bridges on the edge of the Triglav National Park through beautiful forests. Another highlight awaits at the destination, the Slovenian climatic health resort Bled, located on the idyllic Lake Bled with its beautiful island church in the middle of the lake. Relax with a boat trip to the island or with a coffee with a famous Bled cream cake.
Departure
Individual tour of Bled, extension, individual departure or return transfer to Villach.