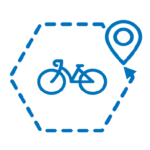 FROM THE DRAIN TO THE ADRIATIC
Pleasure bike tour from Oberdrauburg to Grado


about 310 km
DESCRIPTION:
This special cross-border bike tour combines the highlights of the Drau bike path with those of the Alpe-Adria bike path. You start in the Upper Drautal and cycle on the 5 * star Drauradweg past imposing mountain scenery to Villach. In the lively city with Mediterranean flair, switch to the Ciclovia Alpe-Adria cycle path.
You will soon pass the border town of Tarvisio and from now on you will be cycling on Italian soil, partly on abandoned railway tracks, through the beautiful, untouched Friulian Alps. The landscape is now noticeably softer and more Mediterranean. Via the cities of Udine and Palmanova, which are well worth seeing, and the UNESCO World Heritage Site of Aquileia, you will soon reach the well-known bathing resort of Grado with its kilometers of bathing beaches on the Adriatic Sea.
SERVICES:
7 nights in good middle class hotels and inns
Breakfast buffet or rich breakfast
Luggage transfer from accommodation to accommodation (1 piece of luggage per person, max. 20 kg)
Bikeline bike tour book "Alpe-Adria Cycle Path"
Bike maps, information material and GPS tracks
Service hotline (7 days a week)
GETTING THERE:
Every Wednesday and Thursday.
01.05.-30.09.2023
During the Villach Kirchtagswoche (30.07.-06.08.2023) and the European Bike Week (05.09.-10.09.2023) rooms in Villach are only available for a surcharge.
PRICE:
Middle class hotels and inns
€ 739, - per person in a double room
29.04.-17.05.2023
11.06.-30.06.2023
10.09.-08.10.2023
€ 799, - per person in a double room
18.05.-10.06.2023
01.07.-09.09.2023
Ferroagosto:
€ 859 per person in a double room
06.08. to 19.08.2023
EXTRAS:
Single room surcharge: € 180,-
RENTAL BIKES
Trekking bike: € 109
E-Bike: € 209,-
Local tax, if due, is not included in the tour price.
Transfer back from Grado to Oberdrauburg:
€ 130, - per person excl. bike, taking the customer's own bike € 25
Saturdays from 4 people.
Arrival Date
Individual arrival in Oberdrauburg and check-in at the hotel. The afternoon is free.
Oberdrauburg - Spittal / Drau, approx. 55 km
You start on the excellent Drau cycle path and cycle with pleasure partly along the river bank, partly through smaller villages. Shortly before your destination, you will pass Roman excavations in Lendorf. When you arrive in Spittal / Drau, you should take the time to stroll through town and take a look at the splendid Renaissance castle of Porcia.
Spittal / Drau - Villach, approx. 42 km
Today we continue to Villach, the town with southern flair, along the natural banks of the Drau. Halfway there is a nice snack station where you can take a break. Once you have arrived at your destination, explore Carinthia's "Cycling Capital" and stroll through the old town streets.
Villach - Tarvisio / Camporosso, approx. 37 km
After a short climb on the beautiful Gailtal cycle path, you leave Austria and welcome Bella Italia. Located in the border triangle of Italy, Austria and Slovenia, the winter sports resort of Tarvis is embedded in a wonderful mountain landscape. Enjoy your first Italian dinner on this trip, whether it's a Tarvisian snack, pasta, pizza or a game dish.
Tarvisio / Camporosso - Moggio Udinese / Udinese, approx. 50 km
Look forward to the most beautiful section of the Ciclovia Alpe-Adria cycle path! Today this leads on abandoned railway lines and some tunnels through the beautiful Friulian Alps with intact, untouched nature and extensive forests. When you reach your destination, the best way to discover the pretty Venzone with its eventful history is by strolling through the old town.
Moggio Udinese / Venzone - Udine, approx. 65 km
The wine determines today's stage. Hills full of vines line your path and invite you to wine tasting. Udine, characterized by Venetian influences, exudes calm and prudence. You can admire important buildings from the late Gothic and Renaissance periods with a coffee in the "piazza" or while strolling through the city center.
Udine - Aquileia - Grado, approx. 58 km
Before you sniff the sea air today, we recommend a stop at the UNESCO World Heritage Site Aquileia with its Roman excavations. Accompanied by the breeze of the Scirocco, you then glide past reed landscapes and water canals and soon reach the historic fishing town of Grado. Enjoy the long sandy beaches and wonderful restaurants in this popular seaside resort on the Adriatic.
Departure
Extension, individual journey home or return transfer from Grado to Oberdrauburg.