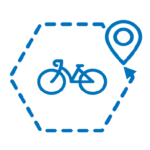 FROM THE DRAIN TO THE ADRIATIC
Enjoyable tour from Oberdrauburg to Grado


about 310 km
DESCRIPTION:
This special cross-border cycle tour combines the highlights of the Drau cycle path with those of the Alpe-Adria cycle path. You start in the Upper Drau Valley and cycle on the 5 * -star Drau cycle path past impressive mountain scenery to Villach. In the lively city with Mediterranean flair, switch to the Alpe-Adria cycle path. Soon you will pass the border town of Tarvisio and from now on you will cycle on Italian soil partly along abandoned railway lines through the beautiful, untouched Friulian Alps. The landscape is now becoming noticeably gentler and after the beautiful cities of Udine and Aquileia you will soon reach the well-known seaside resort of Grado with its miles of beaches on the Adriatic Sea.
SERVICES:
7 nights in good middle class hotels and inns
Breakfast buffet or rich breakfast
Luggage transfer from accommodation to accommodation (1 piece of luggage per person, max. 20 kg)
Bike maps, information material and GPS tracks
Service hotline (7 days a week)
GETTING THERE:
Every Wednesday and Saturday, daily arrival from 4 people possible
During the Villacher Kirchtagswoche (August 31.07st - August 07.08.2022th, 06.09) and the European Bike Week (September 11.09.2022th - September XNUMXth, XNUMX) rooms in Villach are only possible at an additional cost.
PRICE:
Category:
Middle class hotels and inns
€ 599, - per person in a double room
01.05. until June 30.06.2022th, XNUMX
01.09. until October 15.10.2022, XNUMX
€ 659, - per person in a double room
01.07. to 31.08.2022
EXTRAS:
Single room surcharge: € 140, - VS / LS; € 160, - HS
RENTAL BIKES
Touring bike: € 80 per person
E-bike: € 165 per person
Local tax, if due, is not included in the tour price.
Transfer back from Grado to Oberdrauburg:
€ 100, - per person including bike, on Wednesdays and Saturdays from 4 people
Getting there
Individual arrival in Oberdrauburg and check-in at the hotel. The afternoon is free.
Oberdrauburg - Spittal / Drau, approx. 55 km
Following the Upper Drautal you cycle with pleasure, partly along the river bank, partly a little further away through smaller villages. At the stage destination Spittal / Drau you should take time to tour the city. The renaissance castle Porcia is especially worth a visit.
Spittal / Drau - Villach, approx. 42 km
Today you drive further downstream to Villach, the city with the southern flair. Take a break at one of the most beautiful snack stations on the Drau Cycle Path halfway. When you arrive at your destination, experience Carinthia's "cycling capital" with a cozy coffee on the main square and stroll through the alleyways of the old town.
Villach - Tarvisio, approx. 37 km
Following the river Gail you will soon say goodbye to Austria and after a gentle ascent you will soon greet Italy. In the border town of Tarvis, located in the border triangle between Italy, Austria and Slovenia, all three major European language families - Germanic, Roman and Slavic - meet directly. The cycle path runs particularly impressive in this section, namely on old, now abandoned railway lines.
Tarvisio - Moggio Udinese, approx. 50 km
Cycling through the canal valley, the "Canale del Ferro", you can now admire the beauties of the Friulian Alpine region with its intact, untouched nature and extensive forests. In Venzone, with its eventful history, we recommend taking a stroll through the old town.
Moggio Udinese - Udine, approx. 65 km
On today's stage, hills full of grapevines line your path and invite you to taste one or the other drop. Udine, which is characterized by Venetian influences, exudes calm and prudence, while having a coffee in the "piazza" or strolling through the city center, you can admire important buildings from the late Gothic and Renaissance periods.
Udine - Aquileia - Grado, approx. 58 km
Before you sniff the sea air tonight, we recommend making a stop in the historic city of Aquileia and visiting the Roman excavations. Accompanied by the Scirocco breeze, you then glide past reed landscapes and water channels and soon reach the historic fishing town of Grado. With its miles of sandy beaches, Grado is one of the most popular seaside resorts on the Adriatic and attracts with a wide range of delicious restaurants and bars.
Departure
Extension, individual journey home or return transfer from Grado to Oberdrauburg