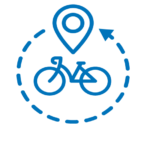 Lake Constance cycle tour from Bregenz

Wonderful round tour around Lake Constance including the Rhine Falls


about 292 km
DESCRIPTION:
On this impressive Lake Constance cycle tour, you will not only get to know the most interesting highlights around the third largest lake in Central Europe, but also the famous Rhine Falls in Switzerland. You start in Bregenz in the Austrian Vorarlberg and cycle along the best developed route Lake Constance Cycle Path mostly right on the lake shore. Art-historical highlights such as the monastery island of Reichenau (UNESCO World Heritage), Constance, Meersburg with the oldest inhabited German castle and the unique flower island of Mainau are on the way. The largest waterfall in Europe, the Rhine Falls near Schaffhausen, is another highlight.
SERVICES:
7 nights in 3* hotels
Breakfast buffet or rich breakfast
Daily luggage transport from hotel to hotel (1 piece per person)
Ride with the Staad-Meersburg ferry including bike
Rhine Falls boat trip
Lake Constance adventure package (incl. Rosgarten Museum in Constance, Zeppelin Museum Friedrichshafen etc.)
Info package with tour map
7-day service hotline
GETTING THERE:
Individual arrival in Bregenz,
daily, from 28.04. until 15.10.2023 (= last arrival)
PRICE:
Category: Good middle class hotels (3 * - star level hotel)
€ 766, - per person in a double room
28.04. to 04.05.2023
09.10. to 15.10.2023
€ 959, - per person in a double room
05.05. to 17.05.2023
12.06. to 30.06.2023
04.09. to 08.10.2023
€ 1.049, - per person in a double room
18.05. to 11.06.2023
01.07. to 03.09.2023
€ 98, - per person in a double room, surcharge festival time
19.07 – 20.08.2023
EXTRAS:
Single room surcharge: € 298, -
Surcharge DEMI board (4x dinner): € 135
parking:
You can park your car at "Parkplatz West" for €7,90 per day or free of charge in neighboring towns with good rail connections.
Local tax: if due, is not included in the tour price.
RENTAL BIKES
Touring bike: € 90, -
E-bike: € 190, -
Arrival in Bregenz
Individual arrival in Bregenz and check-in at the hotel. Free time to visit the Vorarlberg state capital, in the afternoon a guided tour behind the scenes of the floating stage is recommended. During the festival season (19.07. to 20.08.2023) accommodation is partly in the neighboring towns of Wolfurth, Dornbirn or Hard, which are close to the lake.
Bregenz - Arbon/Egnach, approx. 40 km
Today you cycle through the Rhine Delta nature reserve via Rheineck into Switzerland and always along the lake shore to Rorschach. You should definitely make a stop in medieval Arbon and visit the picturesque old town with the famous 7-storey castle tower before you move into your quarters in Egnach, Switzerland.
Arbon/Egnach - Gailingen/Ramsen, approx. 60 km
On the Swiss shore of Lake Constance it goes via Kreuzlingen, past Gottlieben and other smaller, picturesque places with lidos, along the so-called Untersee, as Lake Constance is called in this section. Another highlight is soon reached: Stein am Rhein. The charming small town impresses with its well-preserved medieval half-timbered houses. The day's destination is in the Gailingen/Ramsen area, where you will stay for 2 nights.
Day trip Schaffhausen - Rhine Falls, approx. 30 km
Today's bike tour takes you via Diessenhofen to Schaffhausen on the Rhine. The goal is the mighty Rhine Falls, with a width of 150 m the largest waterfall in Europe. In the middle is a mighty rock that can be reached via a Rhine Falls tour and where the natural spectacle can be experienced up close.
Gailingen/Ramsen- Constance/Kreuzlingen, approx. 50 km
The route continues on the Lake Constance cycle path via Allensbach to the monastery island of Reichenau. The largest island on Lake Constance is home to several monasteries and churches and is a UNESCO World Heritage Site. You will soon reach the nearby Konstanz, where the council house and the Niederburg district are worth a visit and where you can spend a cozy evening, possibly also in the sister city of Kreuzlingen.
Konstanz/Kreuzlingen - Friedrichshafen, approx. 35 km + 1 ferry ride
Another big highlight of your Lake Constance bike tour awaits you today: the world-famous flower island of Mainau. Take your time and stroll through the ever-blooming park and marvel at the variety of plants. Then you cross Lake Constance by ferry and reach the idyllic town of Meersburg with its medieval castle. We continue by bike to Friedrichshafen. In Friedrichshafen you can visit the Zeppelin Museum, the world's largest collection of airships (admission included).
Friedrichshafen - Lindau - Bregenz, approx. 36 km
The Lake Constance cycle path continues today to Langenargen and partly through the "Argen estuary" to Lindau. During a stop you should visit the old town island and the lake promenade in the harbor. Finally, you will reach the starting point of your bike tour and return to Bregenz, Austria, where you can end your journey comfortably.
Departure
Individual journey home or extension