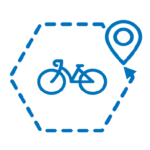 KÄRNTNER 3 LAKES CYCLING SAFARI
Enjoyable tour for cycling and swimming


about 206 km
DESCRIPTION:
Cycle around Carinthia's most popular lakes, Ossiacher See, Wörthersee and Klopeiner See and enjoy the sunny climate on the south side of the Alps. On this pleasure bike tour you stay overnight in your selected bike hotels for 2 nights and have time to enjoy and swim. The crystal clear bathing lakes are embedded in a wonderful mountain landscape and are pleasantly warm in summer, with a water temperature of up to 28 degrees. Comfortable cycle paths lead around the Carinthian lakes and the Drau cycle path can be used as a connection.
SERVICES:
6 nights in 3 * -star hotels and inns
Breakfast buffet or rich breakfast buffet
Luggage transfer from accommodation to accommodation (1 piece of luggage per person, max. 20 kg)
Parking lot in Villach (Willroid parking lot free, others for a fee)
Cycling maps and information material
Service hotline (7 days a week)
GETTING THERE:
Individual arrival in Villach, easily accessible by train
daily from May 01.05st until 30.09.2021/XNUMX/XNUMX
Event notice
During the major events Villacher Kirchtag (01.08.-08.08.2021) and European Bike Week (07.09.-12.09.2021), hotel rooms in Villach are difficult to obtain and unfortunately can only be booked at an additional cost.
PRICE:
category
3 * -star hotels and 3 * -star inns
€ 589, - per person
01.05. a 30.06.2021
01.09. a 30.09.2021
€ 639, - per person
01.07. a 31.08.2021
EXTRAS:
Single room surcharge: € 115
HP surcharge: € 125, -
Local tax, if due, is not included in the tour price.
RENTAL BIKES
Touring bike: € 75, -
E-bike: € 120, -
Return transfer: Klopeiner See to the Villach region € 50 per person. Reservation is required.
Getting there
Individual arrival in the Villach region and check in at the hotel.
Ossiacher See tour, approx. 42 km
Your cycling holiday starts with a circumnavigation of the Ossiacher See, whose cycle path mostly runs directly on the shore. On the way, numerous attractions invite you to take a break: the baroque collegiate church in Ossiach, a trout station for lunch, the nature reserve Pencilätter Moor and the famous stone house in Bodensdorf.
Ossiacher See - Wörthersee, approx. 40 to 55 km
You cycle along the Seebach to the Drau and on the Drauradweg to Rosegg. Here you can visit Carinthia's most diverse zoo or the wax museum in Rosegg Castle. We continue to the famous Velden am Wörthersee, where the beach promenade with its numerous cafes invites you to stroll.
Wörthersee round trip, approx. 40 km
Enjoy the wonderful atmosphere of this famous turquoise bathing lake on your bike tour around the Wörthersee. Take time for a bathing break in one of the numerous bathing beaches or take a boat trip, either with the liner or a small electric boat.
Wörthersee- Klopeiner See, approx. 35 km
Before you leave the Wörthersee, you should make a detour to the Carinthian capital Klagenfurt. Visit the beautiful old town with its famous landmark, the Lindwurm, or take a trip around the world in the Minimundus adventure park. Driving through the beautiful, natural Rosental valley, you finally reach Europe's warmest bathing lake, the Klopeiner See, on the Drauradweg.
Round trip on the Bleiburg art cycle path, approx. 39 km
After circumnavigating the Klopeiner See, we recommend a round trip to the Turner See and Gösselsdorfer See as far as Bleiburg. Follow the art cycle path and visit, for example, the Werner-Berg Museum, Bleiburg Castle or the Kiki-Kogelnik-Brunnen before plunging back into the warm waters of Lake Klopein in the afternoon.
Departure
Extension, individual journey home or booked return transfer from Lake Klopeiner See to Villach.