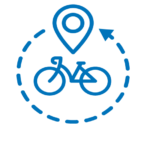 PLEASURE CYCLING TOUR CARINTHIAN LAKE BIKING
Pleasure cycling along the great Carinthia lakes loop


about 320 km
DESCRIPTION:
Seven dreamlike lakes in seven cycling days! Our lake biking tour along the large Carinthian lake loop connects the most beautiful Carinthian lakes and is a unique experience for leisure cyclists. The largest ascent to the natural jewel Weissensee is easily covered by bus, after which it goes down continuously after a boat trip. In between, the crystal-clear water of the well-tempered, beautiful lakes lures you to stop for a swim. The route is 90% along the Carinthian lakes, such as the Millstätter See, the Ossiacher See or the Wörthersee as well as along the Drau cycle path on very well developed and marked cycle paths. Short connecting routes run on country roads. In order to have enough time for the numerous highlights and sights, we recommend using an e-bike.
SERVICES:
7 nights in hotels and inns, the category of your choice
Breakfast buffet or rich breakfast
Personal transfer from Spittal - Weissensee east bank
Shipping Weissensee east bank - Ronacherfels
Daily luggage transfer from hotel to hotel (1 piece of luggage per person, max. 20 kg)
Parking lot in Spittal / Millstätter See (for a fee)
Bike maps, information material, GPS tracks
Service hotline (7 days a week)
GETTING THERE:
Individual arrival in Spittal / Drau, easily accessible by train
every Saturday and Sunday

Minimum number of participants:
2 people
Daily arrival possible with a minimum of 4 participants.
Event notice
During the major events Villacher Kirchtag (31.07.-07.08.2022) and European Bike Week (06.09.-11.09.2022), hotel rooms in Villach can only be booked at an additional cost.
PRICE:
Category: 3 * -star hotels or 3 * -star inns
€. 699 per person
01.05. to 30.06.2022
01.09. to 30.09.2022
€. 739 per person
01.07. to 31.08.2022
Category: 4 * -star hotels or 3 * -star hotels
€. 949 per person
01.05. to 30.06.2022
01.09. to 30.09.2022
€. 1.049 per person
01.07. to 31.08.2022
EXTRAS:
Single room surcharge € 160, -
Surcharge half board € 150, -
RENTAL BIKES
Touring bike: € 80, -
E-bike: € 140, -
Local tax, if due, is not included in the tour price.
Getting there
Individual arrival in Spittal/Drau or Millstätter See and check-in at the hotel. If you arrive earlier, we recommend a short bike tour to or along Lake Millstatt.
Spittal - Weissensee - Millstätter See, approx. 55 km
Your tour begins with a bus ride to the eastern shore of the beautiful, fjord-like Weissensee. We organize this service because the ascent to the 930 m high Weissensee is a little more difficult. Cross the lake with the liner "Alpenperle" and then switch to the bikes. From the west bank you cycle downhill to the Drau Cycle Path and via Spittal/Drau to the popular Millstätter See bathing lake.
Millstätter See - Feldsee - Afritzer See - Ossiacher See, approx. 60 km
Coming from Lake Millstatt you drive to Radenthein, where a visit to the Granatium, the adventure world of garnet gemstones, is recommended. Then you pass the two small bathing lakes Feldsee and Afritzer See, which are ideal for a leisurely rest and a swim stop. On the way to Ossiacher See you can make a short detour to the Elli Riehl Doll Museum in Treffen.
Ossiacher See - Wörthersee / Krumpendorf, approx. 45 km
Depending on how you feel, we recommend additional cycling kilometers on the Ossiacher See cycle path including a stop at Ossiach Abbey and the Bleistätter Moor nature reserve. The Drau Cycle Path then continues to the well-known Wörthersee. In Velden you should treat yourself to a break in one of the beach cafés and stroll between the casino and the famous Velden Castle. Via the bathing resort of Pörtschach you finally cycle along the Wörthersee cycle path to Krumpendorf.
Wörthersee - Klopeiner See, approx. 40 km
You can start this day with a tour of the state capital Klagenfurt, the landmarks are the Lindwurm on Neuer Platz and the Landhaushof. You cycle across the wetlands in the direction of the Drau and can make an interesting stopover in the historic gun town of Ferlach. You continue on the beautiful Drau Cycle Path through the natural Rosental to your destination today, Lake Klopein, the warmest swimming lake in Europe.
Klopeiner See - Villach, approx. 70 km
Today you cycle back along the Drau Cycle Path, mostly on causeways. The Drava offers wonderful insights into the flora and fauna of this river landscape. Enjoy the peace and nature and stop for a swim in between. If the route is too long for you, you can easily shorten it by train from Klagenfurt. Once in Villach, enjoy the atmosphere of the Mediterranean-style old town.
Villach - Spittal / Millstätter See, approx. 40 km
On the last day of cycling, you cycle along the Drau Cycle Path via Paternion back to your departure point in Spittal/Drau. The stage is kept a little shorter because it is slightly uphill in some cases. Alternatively, you can cover this stretch by train and make a detour to the turquoise-green Faaker See. You will soon have reached your goal and you are a "CARINTHIAN LAKE CONNOISSEUR"