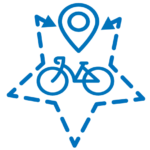 New: From the golden Drau to the turquoise Wörthersee
Autumnal Drau cycle path trip to the Wörthersee


about 100 km
DESCRIPTION:
Discover the colorful natural spectacle of autumn between the banks of the Drau and the well-known Wörthersee! You start your bike tour in Sachsenburg and cycle along the beautiful Drau Cycle Path all the way down the river through the Carinthian National Park region of Hohe Tauern. Via Spittal/Drau and Villach, the route then continues to the turquoise-blue Lake Wörthersee and to Klagenfurt, the capital of Carinthia. In Villach you have the opportunity to enjoy wellness in the spacious Kärnten Therme (admission included). Carinthian specialties are served for dinner (on request) and our bike butler will take your luggage to the next hotel. You can bring your own bikes or book top rental bikes.
SERVICES:
3 nights in 3* hotels and 3* inns with breakfast buffet,
daily luggage transfer from hotel to hotel,
Admission to the Kärnten Therme with the Erlebniscard Villach
Bike maps, information material, GPS tracks
Service hotline (7 days a week)
GETTING THERE:
Individual arrival in Sachsenburg.
Thursday from 11.09 to 10.10.2023
PRICE:
3* star hotels and 3* inns


€ 359,00

per person in a double room
11.09 to 10.10.2023 Local tax, if due, is not included in the travel price.
EXTRAS:
Single room surcharge: € 90, -

Rental bikes (4 to 5 days)

Arrival in Sachsenburg
Individual arrival in Sachsenburg. The small town is literally embraced by the Drau and breathtaking mountain backdrops make the place a true natural highlight.
Sachsenburg - Spittal/Drau - Villach approx. 55 km
On your autumn cycle tour along the Drau Cycle Path, you should make a first stop in Spittal/Drau to visit the beautiful Renaissance castle of Porcia. An idyllic Buschenschank with its own cider press offers a down-to-earth culinary refreshment at lunchtime before you reach your destination for the day, Villach. There you can explore the old town or relax in the nearby Kärnten Therme (entrance included from 16.00 p.m.)
Villach - Velden - Krumpendorf/Klagenfurt approx. 38 km
Today you continue to cycle along the golden colored banks of the Drau, but soon turn off to the well-known Wörthersee. You should treat yourself to a long break in the popular holiday resort of Velden, stroll along the beach promenade and have a drink in one of the numerous cafes. It continues on the Wörthersee cycle path to Krumpendorf near Klagenfurt.
Departure
Before you leave today, we recommend a leisurely visit to the pretty Carinthian state capital of Klagenfurt with its landmark, the Lindwurm fountain.