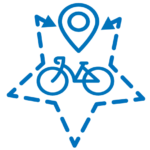 From the bike to the bathroom
Wellness and cycling on Lake Klopein


approx. 113-188 km
DESCRIPTION:
Explore the autumnal Klopeiner See in sunny southern Carinthia with a lot of enjoyment on this bike star tour. Let yourself be pampered in the comfortable 4*-star Aktivhotel Marko and go on leisurely day trips by bike. You can choose from bike tours on the nearby Drau cycle path through the beautiful Rosental valley to the gunsmith town of Ferlach. Or cycle along the large Völkermarkt reservoir or to the nearby idyllic Turner See. After the bike tour, relax in the new bathhouse (one entry included) or enjoy the hotel's wellness facilities (heated outdoor pool, sauna, steam bath, etc.) or the warmest bathing lake in Europe. With the Aktivcard Südkärnten you can use many other attractions in the entire region free of charge.
SERVICES:
3 nights in the 4* Aktivhotel Marko or a similar hotel with a rich breakfast buffet
4-hour entry to the new Badehaus Klopeiner See
Aktivcard Südkärnten
Use of the S-Bahn (additional price for bikes)
Detailed tour suggestions, bike maps, information material,
Service hotline (7 days a week)
GETTING THERE:
Individual arrival to St. Kanzian am Klopeiner See
Daily, from April 01.09th to October 01.11.2022th, XNUMX
PRICE:
4* star Aktivhotel Marko am Klopeiner See or similar hotels
€ 439, - per person in a double room
01.09 -. 01.11.2022
EXTRAS:
Single supplement from € 80
Surcharge half board from € 110,-

Rental bikes (4 to 5 days)

Getting there
Individual arrival in St. Kanzian am Klopeiner See, check-in at the 4 * star Aktivhotel Marko. Relax in the wellness area or on the hotel's own beach and stroll on the lake promenade. If you want to get on your bike straight away, we recommend a short bike tour to the neighboring Turnersee.
Klopeiner See - Völkermarkt - Lavamünd, 25 - 80 km
The beautiful Drau cycle path is right outside the front door! Depending on your mood and condition, you can cycle along the huge Völkermarkt reservoir to Völkermarkt or on to the extraordinary Liaunig art museum in Neuhaus or Lavamünd.
Klopeiner See - Ferlach, 70 km (there and back)
The Drau cycle path also attracts with its charms upstream (without noticeable inclines). Through the natural, enchanting Rosental you reach Ferlach, the city of the famous gunsmiths. Here you have the opportunity to visit the unique hunting museum in Ferlach Castle.
or
3 or 6 lake round trip (18 or 28 km)
Alternatively, or for the day of departure, we recommend a shorter round trip to the surrounding lakes, including the Turnersee and Gösselsdorfer See.
Departure
Individual departure after breakfast or final bike tour to the surrounding lakes, including Turnersee and Gösselsdorfer See (18 or 28 km).