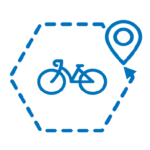 EXPERIENCE E-BIKE TOUR ON THE DRAURADWEG
From Sachsenburg to Lake Klopein


about 145 km
DESCRIPTION:
This bike tour is ideal for pleasure cyclists who want to test an e-bike (included in the price) and prefer a leisurely bike tour. In 5 days you will experience the 5-star Drau Cycle Path from Sachsenburg to Lake Klopein. The stage lengths are designed so that there is enough time for relaxing breaks and for exploring the area. There is also the option of smaller excursions and a few extra kilometers by bike. Enjoy the varied landscape from the Dolomites to southern Carinthia and explore Lake Klopein, which is Europe's warmest bathing lake, at the end of your bike tour.
SERVICES:
• 4 nights in 3 * -star hotels and home-style inns
• Breakfast buffet or full breakfast
• Luggage transfer from hotel to hotel (1 piece of luggage per person, max. 20 kg)
• Parking lot in Sachsenburg
• Rental e-bike from Kalkhoff (City E-Bike)
• Adventure card Villach (including one-time entry to the Kärnten Therme from 16 p.m.)
• Bike maps, information material, GPS tracks
• Service hotline (7 days a week)
GETTING THERE:
Individual arrival in Sachsenburg
From 01.05. until 15.10.2021/XNUMX/XNUMX
VS / NS: every Friday, Saturday, Sunday, from 2 people
Daily arrival from 4 people possible
HS: daily arrival from 2 peopleEvent notice
During the major events Villacher Kirchtag (31.07.-07.08.2022) and European Bike Week (06.09.-11.09.2022), hotel rooms in Villach are difficult to obtain and unfortunately can only be booked at an additional cost.
PRICE:
Category: 3 * -star hotels and home-style inns
€ 469, - per person in a double room
01.05. to 30.06.2022
01.09. to 15.10.2022
€ 519, - per person in a double room
01.07. to 31.08.2022
! Price including rental e-bike!
EXTRAS:
Single room surcharge: € 85
Surcharge half board: € 95, -
Local tax, if due, is not included in the tour price.
Return transfer: Klopeiner See to Sachsenburg € 60 per person. Please reserve the seats in advance.
Getting there
Individual arrival in Sachsenburg and check-in at the hotel and pick-up of your e-bike.
Sachsenburg - Villach, approx. 53 km
You start your bike tour on the beautiful Drauradweg and after a short time you pass Roman excavations in Lendorf. In Spittal / Drau you should take time to stroll through town. The renaissance castle Porcia is especially worth a visit. Halfway towards Villach you can fortify yourself with Carinthian delicacies at a nice snack station. When you arrive in Villach, the well-preserved town center with its cafes and shops invites you to stroll and linger. Optionally, you can make a detour to the Faaker or Ossiacher See (approx. 15km).
Villach - Kirschentheuer / Ferlach, approx. 47 km
Today's stage takes you further downstream through the scenic, natural Rosental, an insider tip, even for experienced Austria connoisseurs. The proximity to Slovenia can not only be experienced here through the bilingualism, it is also reflected in the regional specialties. In the charming gunmaking town of Ferlach, the hunting museum invites you to visit or you can go on a trip to the nearby Tscheppaschlucht (approx. 12 km there and back).
Kirschentheuer / Ferlach - Klopeiner See, approx. 45 km
Today you go to Austria's warmest swimming lake, the Klopeiner See, on the natural river bank of the Drau cycle path. When you reach your destination, relax with a swim in the clear water and enjoy your sunset dinner by the lake.
Departure
Individual journey home, extension at Lake Klopein or transfer back to Sachsenburg