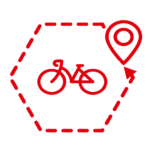 SPORTY ON THE DANUBE CYCLE TRAIL
The sporty bike tour from Passau to Vienna


about 317 km
DESCRIPTION:
The cycle tour from Passau to Vienna is considered to be the most beautiful on the entire Danube Cycle Path. Sporty cyclists and e-bikers can easily cope with the approx. 317 km long, perfectly developed cycle route in daily stages of approx. 80 km. Starting from the Bavarian border town of Passau, the bike tour leads over the well-known Schlögener Donauschlinge to the Upper Austrian capital Linz. The world-famous wine-growing region and UNESCO World Heritage Site Wachau is soon reached through beautiful river landscapes and picturesque places. At the end of the cycle tour, the magnificent Danube metropolis of Vienna awaits.
SERVICES:
5 nights in 4*-star (2x) and 3*-star hotels (3x)
Breakfast buffet or rich breakfast
Luggage transfer from hotel to hotel
Return transfer Vienna - Passau, by bus every Saturday
GPS data on request
Bike maps and information material (1x per room)
Saddlebag rental - also for customer-owned bikes
7-day service hotline
GETTING THERE:
Individual arrival in Passau,
Friday, Saturday, Sunday and Monday from 28.04. until 08.10.2023
PRICE:
Category:
4 * - star and 3 * - star hotels
€ 379, - per person
28.04. to 30.04.2023
01.10. to 08.10.2023
€ 529, - per person
01.05. to 19.05.2023
23.06. to 30.06.2023
08.09. to 30.09.2023
€ 549, - per person
20.05. to 19.06.2023
01.07. to 04.09.2023
EXTRAS:
Single room surcharge: € 159,-
Surcharge demi-board (3 dinners): € 84,-
Arrival: daily from 28.04. until 08.10.2023 (=last arrival)
RENTAL BIKES
Touring bike: € 90, -
E-bike: € 190, -
Local taxes, if due, are not included in the tour price.
Return by bus: € 50,-, every Saturday - from June to August also on Sundays
Return by train: on the remaining days (SO-FRI), every 2 hours, without changing trains, 2nd class, free choice of trains
Return transfer customer's own bikes: by bus € 30 per bike without insurance, with insurance: € 70.
parking:
Unguarded parking lot on the outskirts/near bike issue (fenced property),
€ 40,- per stay - NOT RESERVABLE, depending on availability on site.
Public underground car park (near the train station) possible from approx. € 5 per day - payable on site.
Arrival in Passau
Individual arrival in Passau and check-in at the hotel. Individual tour of Passau's old town (e.g. St. Stephen's Cathedral, Three Rivers Corner, Veste Oberhaus Castle). We recommend the three rivers boat tour - a comfortable city tour from the water.
Passau - Linz, about 90 km
Starting in Passau you cycle via Obernzell to Engelhartszell, where the only Trappist monastery in Austria is worth seeing. Along the banks of the Danube it goes through the dynamic, impressive Schlögener Donauschlinge via Aschbach and Ottensheim to Linz. The provincial capital of Upper Austria impresses with numerous sights.
Linz - Enns - Grein - Ybbs, approx. 80 km
We continue along the Danube Cycle Path to Enns, the oldest town in Austria. You reach Mauthausen by ferry and soon pass Dronach Castle near Grein. Cycling through the beautiful Strudengau you finally reach your destination for the day, Ybbs.
Ybbs - Wachau - Krems, approx. 70 km
From Ybbs-Persenbeug you continue to Melk, which is dominated by a magnificent Benedictine monastery. The UNESCO World Heritage Site Wachau, one of the most beautiful river landscapes in the world, begins in Melk. Passing through the well-known wine-growing towns of Spitz, Weißenkirchen and the fairytale town of Dürnstein, you can reach Krems, which boasts a medieval old town.
Krems - Vienna, approx. 80 km
The Danube cycle path continues through the Tulln Basin to the Roman and flower town of Tulln, past Klosterneuburg and the imposing monastery to the center of Vienna. The Danube metropolis offers a wealth of sights, most of which can be reached on cycle paths (e.g. St. Stephen's Cathedral, Ringstrasse, various museums, Belvedere Palace, Schönbrunn Palace, Prater, Danube Tower, etc.)
Departure
Individual extension in Vienna (highly recommended) or return transfer to Passau.