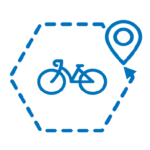 THE CLASSIC DRAUR BIKE TRAVEL
From Sillian in East Tyrol to Lake Klopein


about 230 km
DESCRIPTION:
The Drau cycle path is one of the most beautiful river cycle paths in Europe and has been awarded 5 stars by the ADFC. The classic, 230 km long Drauradweg cycle tour runs along the most beautiful stretch of the route and leads from Sillian in East Tyrol to Lake Klopein in southern Carinthia. You will accompany the Drau as the river changes from a wild mountain stream to a wide, turquoise shining body of water. You cycle downriver past imposing mountain scenery over the enchanting cities Spittal / Drau and Villach and on through the beautiful natural Rosental to one of the warmest bathing lakes in Europe.
SERVICES:
6 nights in bike hotels of the category of your choice
Breakfast buffet or rich breakfast
Daily luggage transfer from hotel to hotel (1 piece of luggage per person, max. 20 kg)
Parking in Sillian
Bikeline bike tour book "Drauradweg"
Bike maps, information material, GPS tracks
Service hotline (7 days a week)
GETTING THERE:
individual arrival to Sillian in East Tyrol
from 1.5. - 30.06.2022 and 01.09. - 30.09.2022, every Friday, Saturday and Sunday, from 2 people
Daily arrival from 4 people possible
from 01.07. - 31.08.2022, daily arrival from 2 people
PRICE:
Category A:
4 * -star and 3 * -star hotels and 3 * -star inns
€ 629, - per person
01.05. to 30.06.2022
01.09. to 30.09.2022
€ 679, - per person
01.07. to 31.08.2022
Category B:
Home-style, family-run middle-class hotels and inns
€ 419, - per person
01.05. to 30.06.2022
01.09. to 30.09.2022
€ 479, - per person
01.07. to 31.08.2022
EXTRAS:
Single room surcharge: € 125, - Cat. A
Single room surcharge: € 105, - Cat. B
Surcharge half board: € 145, - Cat. A
Surcharge half board: € 130, - Cat. B
RENTAL BIKES
Touring bike: € 90, -
E-bike: € 150, -
Local tax: if due, is not included in the tour price.
Return transfer: Klopeiner See - Sillian: € 80, - per person including bike; Please reserve in advance!
Getting there
Individual arrival in Sillian and check-in at the accommodation. The day is at leisure. If you arrive earlier, we recommend cycling to the source of the Drava to Toblach in South Tyrol / Italy (about 33 km there and back).
Sillian - Oberdrauburg (B) / Berg im Drautal (A), approx. 64/51 km
Accompanied by the panorama of the Dolomites, you cycle to the largest city in East Tyrol, to Lienz. Take some time to rest in the charming city and enjoy the hustle and bustle. You drive on strengthened and shortly after Nikolsdorf pass the border to Carinthia.
Oberdrauburg (B) / Berg im Drautal (A) - Spittal an der Drau, approx. 45/55 km
Following the Upper Drautal you cycle partly along the river bank, partly through smaller villages. In Spittal / Drau you should take time to tour the city. The renaissance castle Porcia is especially worth a visit
Spittal an der Drau - Rosegg (B) / Velden (A), approx. 57 km
Today we head to Villach, the city with southern flair, directly on the banks of the Drau. Take a break and experience the lively city up close with a cozy coffee on the main square. Passing the small Silbersee bathing lake, you will soon reach Rosegg with the largest animal park in Carinthia or Velden on the famous Wörthersee.
Rosegg (B) / Velden (A) - Klopeiner See, approx. 62 km
Enjoy the impressive landscape as you drive on beautiful dam paths through the wonderful Rose Valley. Accompanied by the Karawanken, you cycle past the large reservoir to the gunsmith town of Ferlach. From here you continue to the Klopeiner See, the warmest swimming lake in Carinthia.
Klopeiner See - a day to relax
When you arrive at your destination, you have the opportunity to go on other bike tours and excursions in the Southern Carinthia region on this day. Of course, you can also just relax and enjoy a day of swimming at Lake Klopein.
Departure
Individual journey home or booked return transfer from Klopeiner See to Sillian, your place of departure.