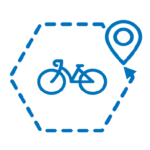 Drau cycle path for athletes and e-bikers
From Sillian to Lavamünd


271 km
DESCRIPTION:
Sporty cyclists will love this bike tour. In just 4 cycling days you can experience the entire Austrian section of the Drau Cycle Path, from Sillian in East Tyrol to Lavamünd on the Slovenian border. The average daily stages of 70 kilometers can be easily mastered by the route leading down the river if you are in good physical shape. If you want to take it slower and plan longer breaks to explore the tourist highlights, an e-bike is recommended. This tour on the Drau Cycle Path through the varied landscape from the Dolomites to southern Carinthia is a pleasure for all participants in a tour group.
SERVICES:
• 5 nights in selected home-style inns
• Breakfast buffet or full breakfast
• Luggage transfer from accommodation to accommodation, (1 piece of luggage per person, max. 20 kg)
• Parking in Sillian
• Bike maps, information material, GPS tracks
• Service hotline (7 days a week)
GETTING THERE:
individual arrival to Sillian in East Tyrol
from 1.5. - 30.06.2022 and 01.09. - 30.09.2022, every Friday, Saturday and Sunday, from 2 people
Daily arrival from 4 people possible
from 01.07. - 31.08.2022, daily arrival from 2 people
PRICE
Category:
home-style, family-run inns
€ 379, - per person
01.05. to 30.06.2022
01.09. to 30.09.2022
€ 409, - per person
01.07. to 31.08.2022
EXTRAS
Single room surcharge: € 85
HP surcharge: € 100, -
RENTAL BIKES
Touring bike: € 80, -
E-bike: € 140, -
Local tax, if due, is not included in the tour price.
Bus transfer
Lavamünd – Sillian: € 90 per person incl. bike Please reserve in good time!
Getting there
Individual arrival in Sillian in East Tyrol and check-in at the hotel. If you arrive earlier, we recommend a bike excursion to the source of the Drau in Toblach in South Tyrol (approx. 36 km there and back).
Sillian - Greifenburg, approx. 71 km
Today you cycle to Lienz in the shadow of the Lienz Dolomites. Take a walk through the beautiful old town of East Tyrol's largest city. We continue on the beautiful Drau cycle path to Oberdrauburg. South of the Drau, you continue through idyllic villages to today's destination Greifenburg.
Greifenburg - Paternion, approx. 52 km
Today you go through the Upper Drautal via Sachsenburg to the town of Spittal / Drau, whose most famous building, the Renaissance castle Porcia, is worth a visit. Enterprising cyclists can optionally take a detour to Lake Millstatt, which is only 11 kilometers away by bike. Always along the Drau it finally goes on almost to the gates of Villach, to Paternion.
Paternion - Kirschentheuer / Ferlach, approx. 77 km
Today you cycle on the banks of the Drau through the vibrant city of Villach. Make a stop in the city center and treat yourself to a cafe on the main square. Shortly afterwards, the small Silbersee invites you to take a refreshing bathing break. The route continues through the scenic rose valley in the Carnica Biene region to the gunsmith town of Ferlach. There an adventure museum was dedicated to the busy bees, which is worth a visit.
Kirschentheuer / Ferlach - Lavamünd, approx. 71 km
Today, the Drau Cycle Path takes you through the lower, unspoilt Rosental Valley on causeways directly on the river bank. For your lunch break, we recommend a detour to Lake Klopeiner See, the warmest bathing lake in Europe. Take a relaxing bath before you pass the large Völkermarkt reservoir for the final sprint to Lavamünd on the Slovenian border.
Departure
Individual journey home or return transfer from Lavamünd to Sillian.