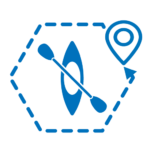 DURING EXPERIENCE BIKE & CANOE
Bike tour Drau - Wörthersee with canoe trial day


about 180 km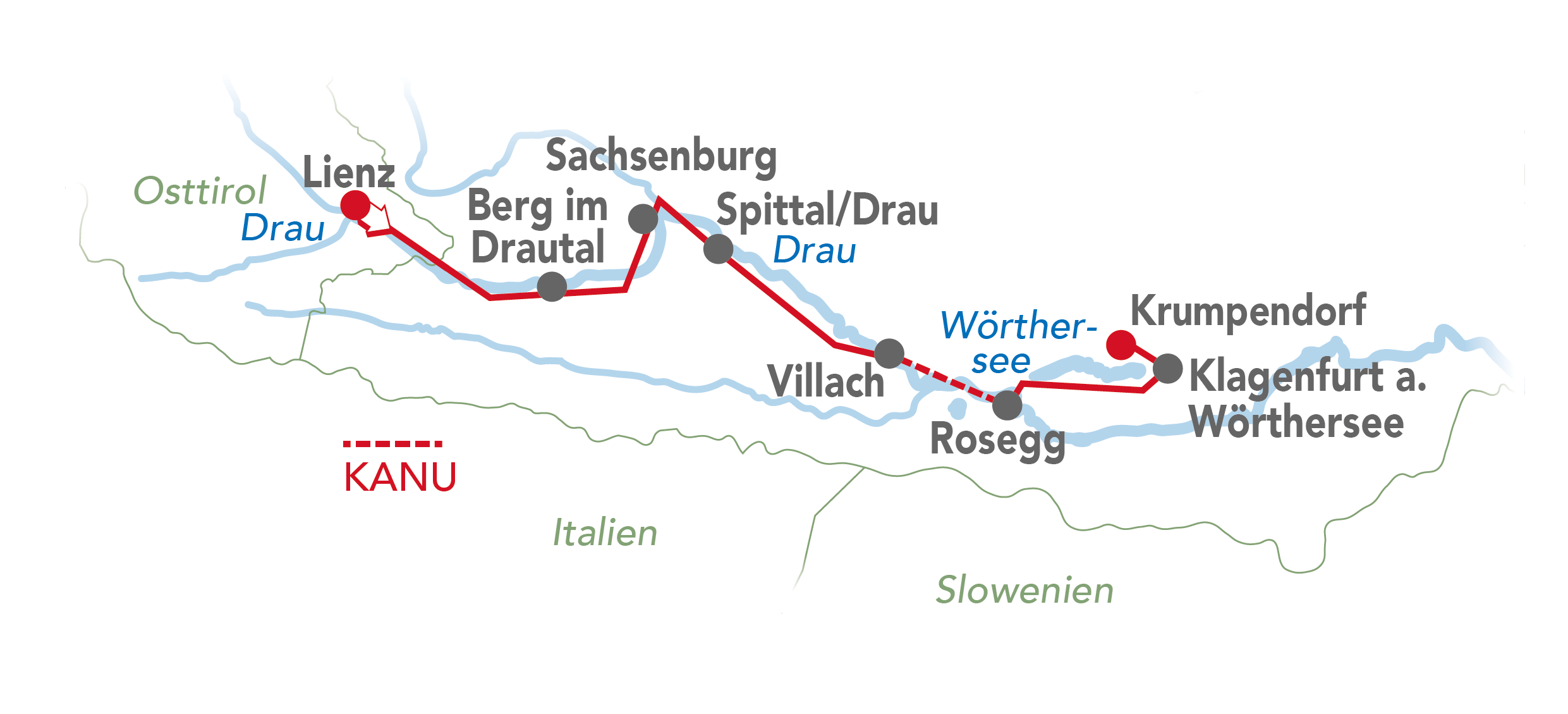 DESCRIPTION:
Crown your Drau bike path tour with a canoeing experience! On this varied, combined cycle tour, you cover a day's stage by canoe and can simply try this sport. First you cycle from Lienz in East Tyrol on the excellent Drau cycle path past the mountains of the Dolomites.
In Villach you switch to the canoe and start paddling after training. On the calmly flowing Drau you can marvel at the flora and fauna from the water and enjoy a wonderful view of the Karawanken. After 17 kilometers of canoeing, you get back on your provided bicycles and finally cycle along the beautiful Wörthersee. Treat yourself to a relaxing bathing break between the famous holiday resort of Velden with its wonderful beach promenade and the state capital Klagenfurt.
SERVICES:
6 nights in 3 * -star hotels and home-style, family-run inns
Breakfast buffet or extensive breakfast
Luggage transfer from hotel to hotel (1 piece of luggage per person, max. 20 kg)
1 canoe tour without a guide (extensive training included)
Rental canoe including life jacket
Bike transfer to the exit point
Cycling maps and information material
Service hotline (7 days a week)
Optionally bookable:
Canoe guide (price depends on the number of people)
GETTING THERE:
Friday, Saturday and Sunday
Minimum number of participants: 2 people
When the water level on the Drau is high, canoe tours are carried out on other waters.
PRICE:
Category:
3 * -star hotels, inns and good middle-class, family-run inns
€ 539, - per person
01.05. to 30.06.2022
01.09. to 30.09.2022
€ 579, - per person
01.07. to 31.08.2022
EXTRAS:
Local tax, if due, is not included in the tour price.
Single room surcharge: € 120
Surcharge HB: € 130, -
Rental bikes:
Touring bike: € 80, -
E-bike: € 130, -
Return transfer Krumpendorf - Lienz: € 70 per person including bike; a reservation of the places is necessary!
Getting there
Individual arrival in Lienz and check-in at the hotel. The day is at your disposal, we recommend a visit to the charming city center of Lienz.
Lienz - Berg im Drautal, approx. 35 km
You start your bike tour on the beautiful Drau bike path with a wonderful view of the mountains of the Lienz Dolomites. The Roman Museum Aguntum on the outskirts of Lienz attracts visitors and presents the history of the old Roman settlement in an attractive way. In Dellach you can stop at a bay on the Drau or take a short hike in the beautiful Geißlochklamm.
Berg im Drautal - Sachsenburg / Spittal adDrau, approx. 30/40 km
Following the upper Drau valley, you drive partly on the river bank and partly a little further away through small villages. In Greifenburg, adventurous people can stop at a climbing park or refresh themselves in the swimming lake. At the stage destination Spittal / Drau you should take time to tour the city. The renaissance castle Porcia is especially worth a visit
Sachsenburg / Spittal adDrau - Villach, approx. 52/40 km
We continue on the Drau Cycle Path, mostly on the natural river bank. Halfway through Feistritz, you have the opportunity to take a refreshing break at a nice snack station with its own fruit press. When you arrive in Villach, the well-preserved town center with its cafes and shops invites you to stroll and linger.
Canoe tour: Villach-Rosegg / Mühlbach, approx. 17 km
Today is canoe day! In the morning you cycle to the Drau entry point, where the canoe guide will be waiting for you. After training, you can start paddling and enjoy the calm flowing Drava and its mysterious banks. On the way you can take a bathing break in the nearby Silbersee. Your paddling stage ends at the Rosegg power station, you swap the canoe for your bike and cycle to your accommodation in Rosegg.
Rosegg / Mühlbach - Krumpendorf, approx. 45 km
Today you will spend the most famous bathing lake in Carinthia, the Wörthersee. First cycle to Velden and stroll along the beach promenade to the famous castle hotel. You can then choose whether to cycle along the north or south bank of the Wörthersee cycle path to your stage destination Krumpendorf and where you can take a bathing break. You shouldn't miss a short tour of the nearby provincial capital Klagenfurt and the sea of ​​flowers in the Europapark.
Transfer back and departure
Individual departure or extension after breakfast. If you have booked rental bikes, you can return to Lienz by train. With your own bikes and luggage, we recommend the return journey with our VIP transfer.