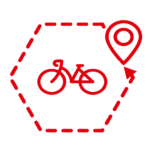 SALZKAMMERGUT CYCLING TOUR FOR ENJOYERS
Discover the highlights of the Salzkammergut by bike


about 177 km
DESCRIPTION:
On this bike tour Salzkammergut Cycle Path enjoy discovering the highlights of the uniquely beautiful Salzkammergut from the saddle. With daily stages of approx. 30 kilometers there is enough time to take a bathing break at the crystal-clear Wolfgangsee, Mondsee or Attersee and to visit the many sights. From world-famous Hallstatt to the imperial city of Bad Ischl to the famous Weißer Rössl on Lake Wolfgang. The routes are easily passable with trekking bikes, they lead mostly on paved bike paths, a few sections also on gravel roads and forest paths.
SERVICES:
7 nights in 4 * and 3 * star hotels
Breakfast buffet or rich breakfast
Luggage transfer from hotel to hotel
Ride on the Abersee - St. Wolfgang ferry
1 x bike map - Salzkammergut and other information material (1 x per room)
1 Salzkammergut souvenir
Service hotline (7 days a week)
GETTING THERE:
Individual arrival in Strobl on Lake Wolfgang
Daily from 01.05. until October 05.10.2023rd, XNUMX
PRICE:
Category:
4 * and 3 * star hotels
€ 929, - per person in a double room
01.05 -. 01.07.2023
01.09 -. 05.10.2023
€ 1.015, - per person in a double room
01.07 -. 30.08.2023
EXTRAS:
Single room surcharge: € 330,-
Surcharge half board: € 180, -
RENTAL BIKES
21-speed KTM trekking bike: € 102, -
E-bike flyer (from size 158 cm): € 174, -
27-speed mountain bike: € 180, -
E-mountain bike: € 234, -
Children's bike up to size 145 cm: € 90
Local tax payable on-site in the accommodation (approx. € 1 to € 3 per person / night)
Reduction for children in their parents' room (with 2 full-paying adults)
0 - 5,9 years: 100%
6 - 14,9 years: 30%
Arrival to Strobl
Individual arrival in Strobl am Wolfgangssee and check-in at the hotel. At the hotel you will receive your travel documents together with a souvenir from the Salzkammergut.
Strobl - St. Wolfgang - Bad Ischl - Strobl, approx. 34 km
You start your day's program with a short bike ride to the ship landing stage in Abersee, where you (with your bike) take the ferry to St. Wolfgang. We recommend a walk through the popular place with its attractions such as the pilgrimage church and the famous "White Horse Inn". From St. Wolfgang you continue to the historic imperial town of Bad Ischl, where Emperor Franz Joseph spent his summers for decades. Via Pfandl it goes back to Bad Ischl.
Strobl - St. Gilgen - Mondsee, approx. 29 km
Today another highlight from the Wolfgangsee is on the program, St. Gilgen, the birthplace of Mozart's mother Anna Maria. The bike tour takes you past the small Krottensee, and via Scharfling you will soon reach Mondsee and the village of the same name.
Mondsee - Irrsee - Mondsee, approx. 24 km
Discover Mondsee today, visit the magnificent basilica of the former monastery and the open-air museum, take a walk on the beach promenade or visit a lido. Then cycle to the neighboring Irrsee, the warmest lake in the Salzkammergut, a protected moor lake and return to Mondsee after circumnavigating it.
Mondsee - Attersee - Seefeld, approx. 26 km
Today's route on the Salzkammergut Cycle Path takes you along the Mondsee via Au to Unterach and on to Seefeld am Attersee. The turquoise-green Attersee is the largest lake in the Salzkammergut and the pleasure of bathing in it should not be missed in a lido or one of the open lake accesses.
Seefeld - Bad Ischl - Bad Goisern, approx. 34 km
Today you cycle over the natural Weissenbachtal via Bad Ischl into the Inner Salzkammergut to Bad Goisern. Take another break in Bad Ischl and treat yourself, for example, to a sweet delicacy in the famous Zauner confectionery or take a walk through the spa gardens.
Bad Goisern - Obertraun - Hallstatt - Bad Goisern, approx. 30 km
At the end of your bike tour there is a very special highlight on the program: the world-famous Hallstatt on the lake of the same name. Along the Hallstätter See-Ostuferradweg you first reach Obertraun, where you can visit the impressive Dachstein ice or mammoth caves. Follow the cycle path to Hallstatt and explore this unique place, which has been a UNESCO World Heritage Site since 1997. Finally, you cycle back to Bad Goisern along the lake.