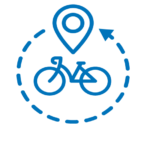 KÄRNTNER LAKE MAGIC PLEASURE CYCLING
Pleasure bike tour between lakes and castles


about 260 km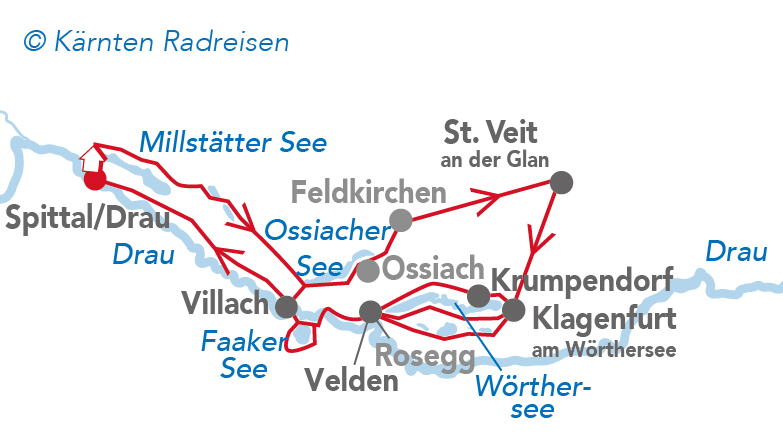 DESCRIPTION:
Explore the most famous Carinthian lakes, the Millstätter See, the Ossiacher See, the sophisticated Wörthersee and the enchanting turquoise Faaker See on this enjoyable and varied bike tour. These enchanting bathing lakes surrounded by mighty mountain scenery will fascinate you just as much as the traditional towns of Villach, Klagenfurt and St. Veit/Glan. In between there is always time for a refreshing and relaxing bath in the crystal-clear water.
SERVICES:
7 nights in selected bike hotels in the category of your choice
Breakfast buffet or rich breakfast
Luggage transfer from hotel to hotel (1 piece of luggage per person, max. 20 kg)
Adventure card Villach
One-time entry to the Kärnten Therme from 16.00 p.m
Bikeline bike tour book "Carinthia bike region"
Cycling maps and information material
Service hotline (7 days a week)
GETTING THERE:
Individual arrival to Spittal/Drau, very easy to reach by train, every Tuesday and Saturday
01.05. 2024 - 02.10.2024
Minimum participants 2 people, daily arrival from 4 people possible.
Event notice
Not bookable during the major events Villacher Kirchtag (July 24.07th - August 04.08.2024th, 31.08) and European Bike Week (August 08.09.2024st - September XNUMXth, XNUMX).
PRICE:
Category B:
3 * -star hotels, 3 * -star inns
Season 1
€ 759, - per person in a double room
01.05. – 05.05.2024
28.09. – 02.10.2024
Season 2
€ 819, - per person in a double room
08.05. – 26.05.2024
16.09. – 29.09.2024
Season 3
€ 839 per person in a double room
26.05. – 15.09.2024
Category A:
4 * -star hotels, good 3 * -star hotels
Season 1
€ 859, - per person in a double room
01.05. – 05.05.2024
28.09. – 02.10.2024
Season 2
€ 889, - per person in a double room
08.05. – 26.05.2024
18.09. – 29.09.2024
Season 3
€ 949 per person in a double room
26.05. – 15.09.2024
EXTRAS:
Single room surcharge: € 210, - Cat. B
Single room surcharge: € 275, - Cat. A
RENTAL BIKES (including delivery, luggage rack bag and service)
Trekking bike: € 119
E-bike: € 219, -
Parkplatz: You can park your car in Spittal/Drau for the duration of your trip for a fee.
The parking fees are not included in the package price and must be paid either directly at the hotel or at the parking lot.
Local tax, if due, is not included in the tour price.
Arrival in Spittal/Drau
Individual arrival in Spittal/Drau and check-in at the hotel. Today is at your leisure, we recommend a visit to Porcia Castle, which is considered the most beautiful Renaissance building in Austria.
Spittal / Drau - Villach, approx. 50 km
Today the first big highlight awaits you, Carinthia's second largest lake, the deep blue Millstätter See. Enjoy the atmosphere with a stop in the main town of Millstatt and in one of the lidos. You cycle through the area valley past the two small bathing lakes Afritzer See and Feldsee to Villach. The city with southern flair and the beautiful old town center invites you to stroll.
Villach - St. Veit / Glan, approx. 56 km
After a few kilometers you will reach Lake Ossiach with numerous attractions such as Ossiach Abbey and the Bleistätter Moor nature reserve. We continue to the town of Feldkirchen and into the Glantal, where a short detour to the small Maltschacher Lake is worthwhile. Finally, you cycle along the Glan to St. Veit, where you can visit the Taggenbrunn Castle winery and taste Carinthian wine.
St. Veit/Glan - Klagenfurt am Wörthersee, approx. 38 km
After a morning tour of the medieval town center of St. Veit, we suggest a detour to the imposing Hochosterwitz Castle, the largest in Carinthia. Your cycle tour continues via the culturally and historically interesting Zollfeld and the Maria Saal Cathedral to the provincial capital of Klagenfurt on Lake Wörthersee. Take a stroll through the old town or go on a journey of discovery around the world in the Minimundus adventure park.
Klagenfurt am Wörthersee - Latschach/Rosegg, approx. 40 km
Today explore the famous Wörthersee and its sophisticated seaside resorts such as Pörtschach, Velden or the Maria Wörth peninsula. Depending on your mood, you can either cycle along the south or north shore of Lake Wörthersee or take a loop through the Keutschacher Seental. Finally, Carinthia's largest zoo awaits you at the stage destination Rosegg.
Latschach / Rosegg - Faaker See - Villach, approx. 39 km
On the Drau cycle path you cycle to St. Niklas and then over a short ascent to the Caribbean-turquoise Faaker See. When going around the Faaker See, you should plan a swim stop and a leisurely rest. Via Warmbad Villach with its attractive Kärnten Therme you can reach the town of Villach, which you already know.
Villach - Spittal / Drau, approx. 40 km
On the beautiful Drau cycle path, you will return upstream to Spittal / Drau, the starting point and destination of your cycle tour. If you arrive earlier, you can take a detour to the nearby Millstätter See.
Departure
Individual departure or extension.