CARINTHIAN CYCLING AUTUMN
FOR COLORFUL CYCLING TOURS

Golden bike tours in autumnal Carinthia
Cycling and wellness
In Carinthia, the cycling season is far from over after the summer. On the contrary, the sunny south of Austria lures in the Carinthian autumn cycle from the end of August with numerous advantages for a relaxing autumn cycle holiday.
The summer heat is over and calm returns to the lakes, but the water temperatures are often still warm enough for a pleasant bath. The air is crystal clear, the weather is mostly stable and mild and nature inspires with its autumnal play of colors and after the harvest with an oversupply of delicious culinary delicacies.
The Carinthian autumn cycle entices with wellness
Carinthia makes cyclists particularly happy in autumn. There is a wide range of bike tours and multi-day tours specially designed for September and October. Of course, everything is perfectly pre-organized on the autumn bike tours, from the route description and accommodation to the convenient transfer of luggage from hotel to hotel. Overnight stays are in selected 3 * and 4 * star hotels, which often have beautiful wellness areas. Here, tired muscles get an extra dose of relaxation after cycling in the sauna and in the warm water.
The Carinthian autumn cycle offers lead to the most beautiful cycle paths in Carinthia, along the Drau, through the Hohe Tauern national park region, Lake Millstatt and Lake Ossiach to Europe's warmest swimming lake, Lake Klopein.
The autumn bike tours are three to four days in length and are comfortable
Rad star tour, e.g. from Villach off, or on autumnal Drau cycle path.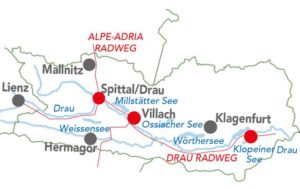 THESE CYCLING TOURS COULD
YOU ARE INTERESTED IN