ALPE-ADRIA CYCLING TRAIL
The fascinating crossing of the Alps by bike

about 330 km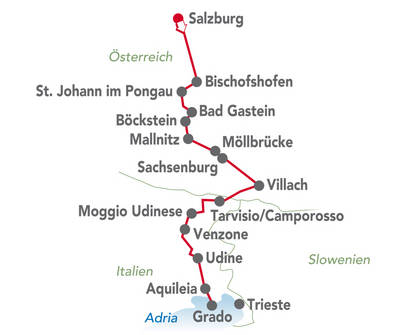 The sea is the destination of the 410 km long, cross-border Ciclovia Alpe-Adria cycle path, which leads from Salzburg to Grado. It is one of the most beautiful cycle routes in Europe and is an unforgettable experience for every cyclist. You cross the Alps by bike and experience the scenic and culinary diversity of Austria and Italy.
Enjoy impressive natural landscapes, cultural sights and interesting cities on your perfectly organized bike tour: From the rugged mountains around Salzburg, past the crystal-clear Carinthian lakes around Villach, to the Italian Friuli to the kilometers of beaches at Grado on the Adriatic Sea.
From the high mountains to the south
The cycle route leads from the starting point in the culture and Mozart city of Salzburg through the Salzach Valley and the magnificent mountain world on the Tauern Cycle Path into the Gastein Valley and via the well-known health resort Bad Gastein to Böckstein. Here you get on the train and it takes only eleven minutes to get through the Tauern lock to Mallnitz, located in the Hohe Tauern National Park at 1.191 meters.
Once in Carinthia, you will soon reach the Drau Cycle Path and cycle downstream through the cities of Spittal an der Drau and Villach, a lively district capital in the border triangle of Austria, Italy and Slovenia.
The Mediterranean feeling grows with every pedal stroke
The following section of the Alpe-Adria cycle path from Villach leads after a short ascent over the Italian border to Tarvisio. Past the untouched Friulian Dolomites, it goes slightly downhill through the Canal Valley. The bicycle route runs idyllically on old abandoned railway lines, numerous tunnels, viaducts and bridges offer a breathtaking view.
As a result, the inner cities of Gemona and Udine tempt you to take a leisurely stroll and have a cappuccino in the piazza. A special highlight are the Roman excavations of the UNESCO World Heritage Site Aquileia. But after the sightseeing you can soon sniff the sea air, the destination, the historic fishing and seaside resort of Grado on the Upper Adriatic, is quickly reached. With its wide beaches and delicious fish restaurants, an additional day for relaxing and swimming can be more than recommended. But the extension of the bike tour along the sea coast, past the historic Miramar Castle to the former K&K port city of Trieste, is a hot tip.
Highlights on the Alpe-Adria cycle path
Salzburg: Mozart's birthplace, Hohensalzburg fortress, castle and water features
Hallein: Salt Mine, Celtic Museum
Werfen: Hohenwerfen Castle, Eisriesenwelt
Bad Gastein: waterfall, rock thermal bath
Mallnitz: National Park Center Bios
Spittal: Renaissance Porcia Castle, Drautalperle adventure pool
Villach: old town, Carinthia thermal baths
Tarvisio: border town in the border triangle Austria-Italy-Slovenia
Venzone, Gemona: ancient towns, rebuilt after earthquakes
Udine: capital of Friuli
Aquileia: UNESCO World Heritage Site, Roman excavations
Grado: lagoon with nature reserves, sandy beaches
THESE CYCLING TOURS COULD
YOU ARE INTERESTED IN