PLEASURE CYCLING ON THE SUNNY SOUTH SIDE OF THE ALPS
Carinthia bike tours is your specialist for a relaxed and enjoyable holiday by bike in southern Austria. As a special tour operator, we take care of everything organizational for you and you can enjoy your cycling holiday to the full. Benefit from our 30 years of experience and our wide network of selected partners and hotels, which guarantee a smooth cycle tour.
Diverse tours
We have developed a large selection of enjoyable tours for you, which offer something for every requirement, taste and time budget. Whether attractive stage tours along the Drau cycle path or Alpe-Adria cycle path, Tours around the Carinthian lakes or daily excursions from a fixed hotel - so-called Star tours- Experience a top-class cycling holiday with us
Your made-to-measure cycling holiday
Our professional team will be happy to work out a tailor-made bike tour tailored to your individual needs. Shorter or longer daily stages are also possible, as well as overnight stays or additional nights. You can also vary the selection of hotels and, for example, declare wellness areas to be your must-have.
Cycling with day luggage
In order to maximize the enjoyment during your cycling holiday, we take care of the transport of your luggage. So you only cycle with light luggage and just enjoy the wonderful landscape. Your luggage will be transported reliably and punctually to the next pre-reserved bike hotel and conveniently deposited for you at the reception. Heavy saddlebags and annoying packing are a thing of the past with Carinthia bike tours.
Your perfect companion
With or without electrical assistance, the rental bikes from Kärnten Radreisen are all in excellent condition and of excellent quality. When booking, you can choose the model, size and equipment and it will be waiting for you in your arrival hotel. At the end of the tour, simply leave the bike in the last hotel. For multi-stage tours, we organize a comfortable return transfer to your car park or train station for you and your bike.
Our bike hotels
We have been working successfully with all of our bike hotels for years to provide you with maximum comfort and services such as a lockable bike room and a drying room during your bike tour. Breakfast is already at the table every day, so that you can take a look at the next stage description before you head back to the bike route with light luggage for the day.
Our sister: Austria bike tours
Do you already know most of the cycle paths in Carinthia and would you like to discover a new cycle path or a different landscape? Then we recommend the services of the travel agency Austria Radreisen. With a lot of experience, our sister company offers the most beautiful leisurely bike tours in all of Austria. From the circumnavigation of Lake Constance to the classic cycle tour on the Danube Cycle Path from Passau to Vienna, from leisurely cycle tours in Upper Styria to the river cycle tour on the Adige Cycle Path. on www.oesterreich-radreisen.at you will find all the highlights for your next cycling holiday clearly presented.
Best Price Guaranteed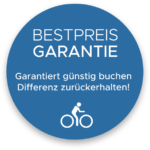 Book with Carinthia Radreisen guaranteed inexpensive! If you find an equivalent offer for your bike tour at another travel agency, you will receive the same price from us. Please just email the comparison offer 2 weeks before your departure. This best price guarantee applies to all bike tours organized by Kärnten Radreisen on the Drauradweg, the Alpe-Adria-Radweg and along the Carinthian lakes.
Our cycle path network: The most beautiful cycle tours in southern Austria
_____________________________________________________________________________________________________________
Information and bookings
Our professional team will be happy to advise you personally. We look forward to your message!
Carinthia Radreisen, Strafinger Tourism Management and Travel Agency GmbH,
Ossiacher See-Süduferstraße 59-61, 9523 Landskron / Villach,
E. info@kaernten-radreisen.at, T. +43 (0) 42 42 44 200 37
www.kaernten-radreisen.at

BOOKING HOTLINE
+43 (0) 4242 44 200 -37