DANUBE CYCLE TRAIL
The perfect long-distance cycle path for your first cycling holiday

about 330 km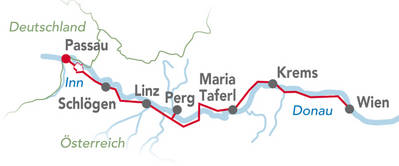 The famous Danube Cycle Path is the pioneer among European cycle paths and has been one of the most popular long-distance cycle paths in Europe for over 30 years. The Danube Cycle Path runs around 2.850 km along the banks of the Danube from its source in Germany to its estuary in the Black Sea. The different stages along the second longest river in Europe lead through Germany, Austria, Slovakia, Hungary, Croatia, Serbia, Bulgaria and Romania.
Danube cycle path on both sides of the river
The cycle route of the Danube Cycle Path in Germany and Austria is particularly well developed. For the most part, the cycle route runs on both sides of the Danube, but sometimes only on one side, so that the Danube is crossed several times. The first section of the Danube Cycle Path leads along the young Danube from Donaueschingen via Ulm to Donauwörth, through a landscape characterized by numerous castles, palaces, ruins, monasteries and baroque churches.
From Donauwörth, the Danube Cycle Path continues through Ingolstadt and Regensburg to Passau. On this section of the Danube Cycle Path, you follow the Danube across Bavaria. The bike route is particularly suitable for leisure cyclists and families, as the route is largely flat. The cities along the route invite you to stroll and discover.
The most spectacular section: From Passau to Vienna
The stage from the three-river city of Passau to the Austrian capital of Vienna is very popular with cyclists - the absolute classic among all (Danube) bike tours. The bike-friendly infrastructure, the consistently asphalted route with hardly any inclines and the good signage ensure a relaxed bike tour. The bike tour is ideal for young and old and also for families with children.
The Danube Cycle Path in Upper and Lower Austria
The route in Upper and Lower Austria is peppered with sights and natural attractions. In addition to the famous Schlögener Donauschlinge, the design city of Linz, the mighty Benedictine monastery of Melk and finally the Wachau wine region, one of the most spectacular river landscapes in the world, are passed. The next stages of the Danube Cycle Path lead along the Danube through the three metropolises of Vienna, Bratislava and Budapest.
Best infrastructure on the Danube Cycle Path
The Danube Cycle Path also has a lot to offer for e-bikers. Numerous bike-friendly businesses along the bike route offer free charging stations for e-bikes. A bike tour on the Danube Cycle Path can be ideally combined with other public transport. You have the option of relaxing part of the way by train or boat.
Austria Radreisen offers two perfectly organized bike tours on the most popular section of the Danube Cycle Path between Passau and Vienna: The classic bike tour for leisure cyclists with 7 overnight stays and one sporty bike tour with daily stages of around 80 kilometers.
THESE CYCLING TOURS COULD
YOU ARE INTERESTED IN