THE ETSCHRADWEG
From the Tyrolean mountains to Verona

about 330 km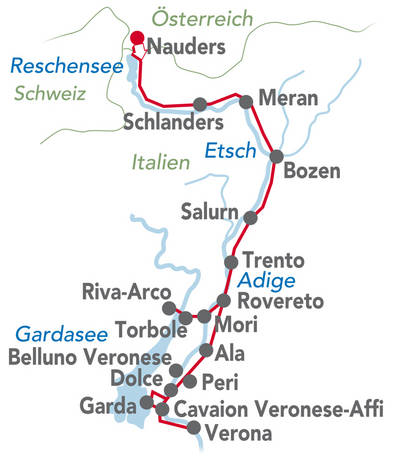 From the Tyrolean mountains to Verona

The Adige Cycle Path is without a doubt one of the most beautiful cycle paths in Italy and offers a first-class experience of nature. The approximately 345 km long cycle path leads from the mountains of the main Alpine ridge to the Italian Pobene and offers numerous sights along the way. It starts in Nauders in Tyrol and leads over the Reschen Pass past Lake Garda to Verona, the city of Romeo and Juliet.
The Etsch (Adige in Italian) is the longest river in South Tyrol and rises in the Ötztal Alps near the Austrian-Italian border. Before the Etsch flows into the Adriatic Sea, it flows through the Vinschgau, the Meraner Land, the southern part of South Tyrol and Trentino to Verona. The most beautiful section of the Adige between Reschen and Verona can be experienced up close on the Adige Cycle Path.
Discover South Tyrol by bike
Except for the ascent to the Reschen Pass at the beginning of the route (150 meters in altitude from Nauders), the Adige Cycle Path runs constantly downhill in a southerly direction. The first highlight is the picturesque Reschensee, which you should drive around on the left-hand side in order to be able to take a look at the famous church tower rising out of the water. The cycle route of the Adige Cycle Path mostly runs directly along the river and passes through beautiful orchards and vineyards. Longer stops should be planned in the attractive South Tyrolean spa towns of Meran and Bozen, as well as in Trento and Rovereto.
Detour to the natural jewel of Lake Garda
A particularly natural jewel, the dreamy Lake Garda, is only a few kilometers away from the Adige and can easily be integrated into the bike tours. The stage destination Verona attracts with numerous historical sights and is world-famous above all for the opera performances in the former Roman Arena.
The unique combination of breathtaking landscapes and unique cultural assets make the Adige Valley Cycle Path a special experience. The individual stages are well developed and paved and are easy to navigate. Cozy inns and restaurants invite you to pause and have a delicious refreshment, be it with down-to-earth South Tyrolean dishes or with original Italian specialties.
Österreich Radreisen offers the highlights of the Adige Cycle Path with 2 different bike tours: The classic bike tour from Nauders to Verona for culture lovers and the variation from Nauders to Acro on Lake Garda From the South Tyrolean mountains to the opera arena
Highlights
Reschen pass: Border crossing between Austrian North Tyrol and Italian South Tyrol
Lake Reschen: clear mountain lake with a world-famous church tower jutting out of the lake
Merano: historic spa town with themes and parks, Trauttmannsdorf Castle with terraced gardens, former travel destination of Empress Sisi,
Bolzano: South Tyrolean capital, lively old town with medieval arcades and squares, statue of Walther von der Vogelweide
Trento (Trento): beautiful old town beautiful Renaissance and Baroque buildings
Rovereto: Northern gate to Lake Garda, old town worth seeing with Venetian castle
Lake Garda: largest Italian lake with a magnificent mountain backdrop and picturesque places
Verona: Opera Arena - UNESCO World Heritage Site, Old Town with Basilica San Zeno, Castelvecchio, Balcony of Romeo and Juliet
THESE MIGHT TRAVEL
YOU ARE INTERESTED IN